Band: Stone Sour
Titel: House Of Gold and Bones Part 2
Label: Roadrunner Records
VÖ: 2013
Genre: Alternative Metal,Hard Rock
Bewertung: 4/5
Written by: Heimo Zlöbl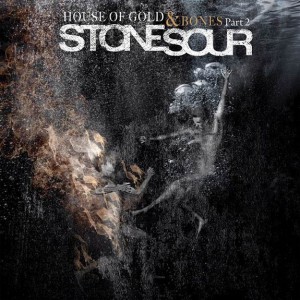 Stone Sour bringt den 2. Teil des erstmals vor einem halben Jahr erschienenen HOUSE OF GOLD AND BONES unters Volk.
Die zentralen Fragen drehen sich natürlich um "Kann das Album da anschließen, wo Part I aufgehört hat?", denn Part I war ein äußert starkes Brett und hat die Erwartungen dementsprechend nach oben geschraubt.
Mit Red City haben die Jungs rund um Corey Taylor einen optimalen Opener gefunden. Sehr sphärisch und mystisch. Gesanglich auf höchstem Niveau. Die Spannung und die Neugier aufs restliche Album steigt.
Zwischenzeitlich wird die Euphorie aber etwas gedrückt, da einige Songs im Durchschnitt untergehen, na ja untergehen ist etwas zu hart gesagt, da Songs wie "Black John" oder "Stalemate" ja keinesfalls schlechte Songs sind, sie heben sich lediglich nicht extra ab.
Dafür gibt es aber Songs, die die Mundwinkel weit nach oben ziehen und Bock auf Kopfschütteln machen, hier wären besonders "Sadist", "Peckinpah", "Do me a Favor" und "The Contflagration" zu erwähnen. Diese Songs sind einfach Stone Sour.
House of Gold & Bones ist typisch Stone Sour – wenn auch die Erwartungen aufgrund des übermäßig starken Part I nicht ganz erreicht werden –  bissige Hooklines, gepaart mit traumhaften Melodien durch 2 geniale Gitarristen und einem der stimmgewaltigsten Sänger im Metalbereich.
Tracklist:
01. Red City
02. Black John
03. Sadist
04. Peckinpah
05. Stalemate
06. Gravesend
07. '82
08. The Uncanny Valley
09. Blue Smoke
10. Do Me A Favor
11. The Conflagration
12. The House Of Gold & Bones
Besetzung:
Corey Taylor (voc,guit & piano)
James Root (guit & key)
Josh Rand (guit)
Roy Mayorga (drums)
Internet:
Stone Sour Website
Stone Sour @ MySpace