Band: Sudden Flames
Titel: Under The Sign Of The Alliance
Label: Maple Metal Records
VÖ: 2014
Genre: Power Metal
Bewertung: 4/5
Written by: Daniel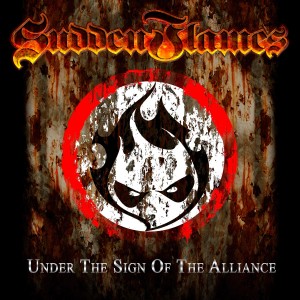 Mensch, wo habe denn neulich die These gelesen, dass Kanada momentan einfach keine schlechten Bands hervorbringen kann? Auf jeden Fall darf man sich in Europa langsam fragen warum man es in der neuen Welt mittlerweile schafft, die hiesige Elite (Helloween, Gamma Ray, Rhapsody Of Fire, Primal Fear…) teilweise ziemlich alt aussehen zu lassen, denn Under The Sign Of The Alliance ist dieses Jahr bei weitem nicht das erste Album vom amerikanischen Kontinent welches mit den europäischen Topveröffentlichungen wenigstens mithält! Egal ob die Kanadier puren Power Metal wie mit dem Opener Vendetta, Pilgrims Of Steel und Beyond darbieten oder sich mit Lost, Warrior of Hell, Freedom, Tormented Mind und Gabriel`s Quest an Helloween und Rhapsody Of Fire orientieren, feine Arrangements und Frische lassen einen ab und an die Kinnlade runterklappen. Zudem ist ein kleines Quäntchen Iron Maiden ist in jedem Song auszumachen und der Gesang von Jean Robert Letarte erinnert ein bisschen an den Stormwarrior Fronter Lars Ramcke und verleiht den Songs dabei steht einen rauhen Charme, so das man dieses Zweitwerk jeder/m Power Metaller/in unbedingt ans Herz legen muss. Anspieltipps:  Gabriel`s Quest und der Titeltrack .
Tracklist:
01. Vendetta
02. Pilgrims of Steel
03. Lost
04. Gabriel's Quest
05. Warrior of Hell
06. Beyond
07. Freedom
08. Tormented Mind                                                                                                                               09 Under the Sign of the Alliance
Besetzung:
Jean Robert Letarte (voc)                                                                                                                       
Sébastien Latulippe
(guit)
Daves Couture (guit)                                                                                                                             
Pascal Lacombe
(bass)
Nicolas Blanchet (drums)
Internet:
Offical Homepage