Band: Sunless Sky
Titel: Doppelgänger
Label: Pure Steel Records
VÖ: 07. April 2017
Genre: US Metal
Bewertung: 4,5/5
Written by: Daniel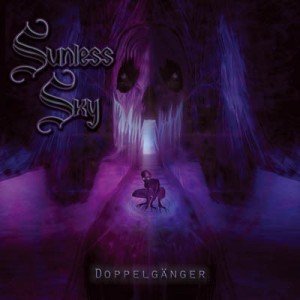 Es gibt Protagonisten, bei deren Wirken an einem Album man Großartigkeit als Grundvoraussetzung nimmt. Einer dieser großartigen Könner ist Juan Ricardo, der unter anderem mit Wretch ein vorzügliches Werk vorgelegt hat.
Vor drei Lenzen tat er dies auch mit dem Debüt Firebreather von SUNLESS SKY, einer aus Cleveland stammenden Formation, der mit Curran Murphy (ex – Annihilator, ex – H.A.T.E. und ex – Nevermore) noch ein weiterer, relativ bekannter Musiker beiwohnt.
Das wirklich einzige Manko am Debüt war das grauenvolle Cover, aber mit DOPELLGÄNGER ist auch dieses ausgemerzt.
Ricardo ist, neben Harry Conklin, für mich momentan der Sänger im heiligsten aller Metalgenres. Er schafft es immer, dem in diesem Fall mittlerweile absolut rundlaufenden, perfekt agierenden Instrumentalmotor mit seiner Stimme dermaßen aufzuwerten, daß es hier für Metalfans eine Freude ist, zu treibendenden Liedern wie Stone Gods und Doppelgänger das Haupthaar zu schütteln, bei Thrashattacken wie dem Eröffnungsstück Starfall und Adrenaline Junkie völlig auszurasten oder bei Glanzstücken wie Netherworld, Lake Of Souls, Inside The Monster, Black Symphony und Heroin sich an einer weiteren, sehr gewaltigen Renaissence des US Metal zu erfreuen.
DOPPELGÄNGER bietet, in seiner Schnittmenge von den treibenden Rythmen Iron Maidens bis zum Thrash a la Annihilator durchweg großartiges Futter und offenbart abermals einen Sänger, der zurecht zum Aushängeschild eines ganzen, wieder gesundeten Genre avanchiert. Ein fettes "Heil" nach Ohio!
Trackliste:
01. Starfall
02. Doppelgänger
03. Kingdom Of Sky
04. Stone Gods
05. Lake Of Lost Souls
06. Netherworld
07. Adrenaline Junkie
08. Inside The Monster
09. Heroin
10. Black Symphony
Besetzung:
Juan Ricardo – Gesang
Curran Murphy – Gitarren
Kevin Czarnecki – Bass
Coltin Rady – Schlagzeug
Sunless Sky im Internet:
Facebook