Band: Super Fun Happy Slide
Titel: Drop Your Pants & Grind
Label: Blastasfuk
VÖ: 2014
Genre: Grindcore / Brutal Death
Bewertung: 3,5/5
Written by: Lazer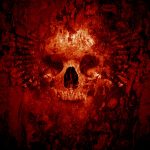 Seit 2004 grinden die Herren von Super Fun Happy Slide (SFHS) aus Melbourne nun schon durch unsere Gehörgänge.
Jetzt – 2014 – bringen sie ihr zweites Full-length Album namens Drop Your Pants & Grind auf den Markt.
Recht viel kann man zu diesem Gesamtkunstwerk eigentlich nicht sagen. Es ist Grindcore pur. Angefangen vom Artwork des Covers, über die Länge der Tracks ( 23 Songs in knapp 25 Minuten), über die Songtiteln, bis hin zur Musik, ist dieses Album Grindcore.
Technisch eigentlich nicht wirklich hochwertig, sondern einfach und abartig schnell präsentieren sich die Songs der Australier auf Drop Your Pants & Grind. Die Geschwindigkeit des Drummers liegt jenseits von Gut und Böse, die Riffs sind abgrundtief und der Sänger gibt röhrende Growls und markiges Gekreische von sich. Sehr toll sind die kurzen Slam-Parts. Aber das war es auch schon.
Aber so soll es auch sein. Grindcore ist nun mal kurz, prägnant, hart, überhart, schroff und pervers.
Mein Fazit: SFHS haben den Grindcore auf ihrem neuen Album Drop Your Pants & Grind auf den Kopf getroffen.
Nichts weltbewegendes, keine bahnbrechenden Neuigkeiten aber dennoch ein grindcoretechnisches Gehörgangserbrechen – was durchaus gewünscht wird. Für Fans die auf sexistische Kackscheiße stehen ist dieses Album auf alle Fälle hörenswert.
Tracklist:
01. Drop Your Pants & Grind
02. Gift-Wrapped Ballsack
03. Napalm Shower
04. GoreTRON
05. Chunder Blunder
06. Boot Full Of Custard
07. Maximum Titty
08. Call Me The Cheese Inspector
09. The Funky Smell Of Fuck
10. Homebrand Holocaust (Egrosid)
11. Whammy Barred Up
12. Firecracker Up Ya Clacker
13. Mouth To Mouth Regurgitation
14. Blow It Out Your Arse, Fuckface!
15. Prison Without Walls (Napalm Death)
16. School Girl Shishkebab
17. A Bloodstorm At JB Hi-Fi
18. Ignorance Convention
19. Tantalising Remnants
20. True Love Is A Bloody Cock
21. Clit Cannibal (Libido Airbag)
22. Slippery For All The Wrong Reasons
23. What's That Taste In My Mouth?
Besetzung:
Nik – Gesang
Den – Gitarre
Benny – Bass
Brad – Schlagzeug
Internet:
SFHS @ MySpace