Tarja – From Spirits And Ghosts (Score For A Dark Christmas)
Band: Tarja
Titel: From Spirits And Ghosts (Score For A Dark Christmas)
Label: EarMUSIC
VÖ: 17.11.17
Genre: Kommerzkacke/Neoklassik
Bewertung: 1/5
Written by: Peter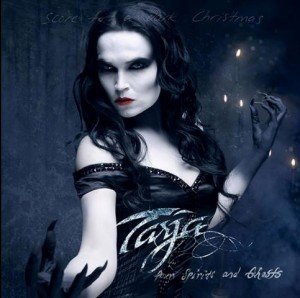 Mein lieber Schwan, was hat sich denn die von mir eigentlich als Künstlerin, gerade auch live, geschätzte Frau Tarja Turunen bei diesem Desaster von Weihnachtsalbum namens From Spirits And Ghosts (Score For A Dark Christmas) gedacht? Ein dunkles Weihnachtsalbum sollte es werden…
Dann geworden ist es Kommerzkacke vom Allerfeinsten. Ich bin aufgeschlossen gegenüber Poppigem, wenn es gut gemacht ist; gerade auch Ruhiges und Folkiges schätze ich. Aber was da auf CD gebannt wurde, sind Standardweihnachtslieder mit Standard-Tarja-Gesang, dekoriert mit ein bisschen Elektronik und Orchestralik. Gitarre nein, Dunkelheit nein. Eigentlich zum Heulen.
Liebe Tarja, herzliche Gratulation, bist zwar nach wie vor eine tolle Sängerin; in letzter Zeit aber scheinbar vor allem eine tolle Biophysikerin, da du offenbar einen Weg erfunden hast, Kacke auf CD zu pressen und hörbar zu machen. Solltest du dir unbedingt patentieren lassen – ich sehe Andreas Gabalier und Konsorten bei dir darum anläuten!
Tracklist:
01. O Come, O Come, Emmanue
02. Together
03. We Three Kings
04. Deck The Halls
05. Pie Jesu
06. Amazing Grace
07. O Tannenbaum
08. Have Yourself a Merry Little Christmas
09. God Rest Ye
10. Feliz Navidad
11. What Child Is This
12. We Wish You a Merry Christmas
Besetzung:
Tarja Turunen e.a.
Tarja im Internet:
Tarja Website