Band: Testament
Titel: The Brotherhood Of The Snake
Label: Nuclear Blast
VÖ: 28.10.16
Genre:Thrash Metal/Death Metal
Bewertung: 4,5/5
Written by: Peter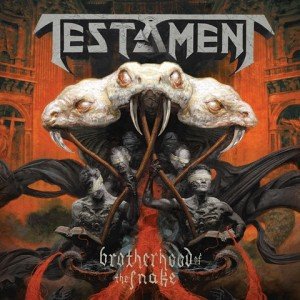 Testament den geneigten Thrash-MetallerInnen vorzustellen, würde bedeuten, Riffs in die Bay-Area zu tragen. Aber was die Herren um Ausnahme-Vokalist Chuck Billy uns auf ihrem neuem Album The Brotherhood Of The Snake vor den Latz knallen, ist schon Allerhand. Normalerweise werden Thrash-Songs aus Riffs komponiert, die auf der Gitarre, also dem Instrument der Axt, entstehen. Testament sind das diesmal innovativer angegangen: Der neue Rundling muss auf den Instrumenten des Vorschlaghammers und teils sogar der Abrissbirne komponiert worden sein. Um es mit den Ärzten auszurücken: "Immer mitten in die Fresse rein!".
Schon das letzte Album Dark Roots Of Earth war fetter Trash, aber auf diesem Langeisen packen die Herren noch ein paar Härtegrade drauf. Bestes Beispiel ist der Eröffnungsdoppelschlag mit dem Titeltrack und The Pale King. Gerade in ersterem dringt vor allem Billy in den Vokalbereich des Death Metal vor, was ja bei Testament schon der Fall war, aber eben nicht zuletzt. Kurz, es rummst und rifft an allen Ecken und Enden, und ein geifernder Chuck setzt dem die Krone auf. Auch die Melodie in Form von Refrains oder Gitarrenleads kommt dabei nicht zu kurz. Ich gebe nur nicht die gesamte Punktzahl, da das Niveau der Killerriffs nicht über die ganze Länge gehalten wird. Dennoch: Hut vor den alten Herren!
Tracklist:
01. Brotherhood Of The Snake
02. The Pale King
03. Stronghold
04. Seven Seals
05. Born In A Rut
06. Centuries Of Suffering
07. Neptune's Spear
08. Black Jack
09. Canna-Business
10. The Number Game
Besetzung:
Chuck Billy – Vocals
Eric Peterson – Guitar
Alex Skolnick – Guitar
Steve Di Giorgio – Bass
Gene Hoglan – Drums
Testament im Internet:
Testament Official Website