Band: The  Amity Affliction
Titel: Let The Ocean Take Me
Label: Roadrunner Records
VÖ: 2014
Genre: Post-Hardcore/Melodic Hardcore
Bewertung: 4/5
Written by: Robert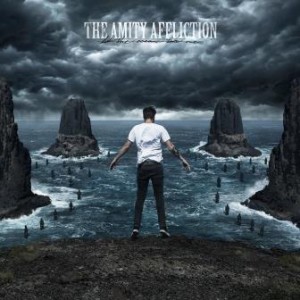 Die 2002 gegründete Post-Hardcore/Melodic Hardcore Band The Amity Affliction legt mit "Let The Ocean Take Me" den nunmehr vierten Streich vor. Pünktlich für die heiße Zeit ist dies aber keine Abkühlung, denn die Aussis sind ein heißer Act und nicht minder wuchtvoll, mit schweißtreibenden Rhythmen rotiert auch Album Nummer vier daher. Die Post Attitüden wurden etwas sachter hinzugefügt und für dies sind die Jungs aus Gympie (Queensland/Australien) ja bekannt. Bei ihnen spielt zwar etwas die Verspieltheit eine tragende Rolle, wohlgemerkt aber nicht zu ausufernd. Somit ist das Album sehr reichhaltig gespickt, mit einer Vielzahl von superben Melodien, Choirs und wuchtigen, teils sehr brachialen Schlägen. Die Fusion ist sehr facettenreich und wurde unter dem Motto breite Farbenvielfalt in Szene gesetzt. Mit viel Leidenschaft wird man da sicherlich Türen und Toren bei ihrer eingeschworenen Fangemeinde aufstoßen. Denke aber auch, dass man aufgrund der Fusion und der breiten, sehr leckeren Melange eine breite Schicht an neuen Hardcore Fans rekrutieren kann. Freilich ist das Material für den Urtypen des Genres nichts, denn dazu ist das Material zu weit und modern geschichtet. Hat man aber eine Vorliebe für schöne ausufernde Melodien, sinnvolle Wechsel zwischen Clear und harschen Passagen, so ist man binnen Zehntelsekunden gleich Feuer und Flamme. Konnte man deutlich mehr im Gegensatz zum Vorgänger aufwarten? Nicht unbedingt, dennoch kann man das sehr hoch gesetzte Level, des fulminanten Vorreiters locker halten. Es ist sicherlich kein Geheimnis mehr, dass viele sehr leicht verdauliche Elemente miteingebaut werden und auch viele Kollegen dies mit ins Konzept nehmen. Bei vielen ist es halt so, dass es weniger funktioniert und man dadurch etwas zu poppig wirkt. Bei den Australiern in diesem Fall ist dies deutlich besser und weitaus gereifter ausgefallen. So verdrischt man uns amtlich einerseits mit harschen Attitüden den Hintern und dabei tritt man selbigen auch mit viel Kraft. Pinselt uns aber auch immer wieder mit schmucken Melodien den Bauch. Viel Freiraum für schwungvolle Hardcore Pit Tänzer, aber auch für die Power Ranger Fraktion genügend Spielraum sich hier vollends auszutoben.
Fazit: Ein absolutes Schmankerl für die Hardcore Szene der jüngeren Generation, welche viel Melodie, wie auch Verspieltheit für ihre Hör-Runde braucht.
Tracklist:
01. Pittsburgh
02. Lost & Fading
03. Don't Lean On Me
04. The Weigh Down
05. Never Alone
06. Death's Hand
07. FML
08. My Father's Son
09. Forest Fire
10. Give It All
Besetzung:
Joel Birch (voc)
Ahren Stringer (voc & bass)
Troy Brady (guit)
Ryan Burt (drums)
Daniel Brown (guit)
Internet:
The Amity Affliction Website
The Amity Affliction @ Facebook
The Amity Affliction @ Twitter