Band: The Answer
Titel: Solas
Label: Napalm Records
VÖ: 28. Oktober 2016
Genre: Classic Rock
Bewertung: 4/5
Written by: Daniel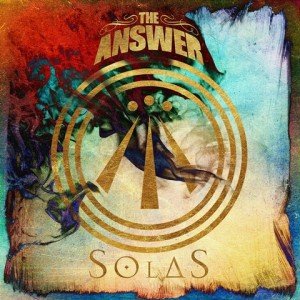 THE ANSWER wagen mit SOLAS einen Schritt zu mehr Vielfalt, was erst einmal gewagt erscheint .
Schließlich könnte es Fans verprellen, und auf die ist man als Profimusiker angewiesen. Aber mit SOLAS ist den Inselrockern das Kunststück gelungen, zum einen im ursprünglichen musikalischem Genre zu verweilen, zum anderen aber nicht auf der Stelle zu treten.
Der direkte, riffbetonte Rock weicht auf der sechsten Veröffentlichung der gesamten Bandbreite des Rocks. Battle Cry und Left Me Standing bieten eingängige Folk Hard Rock Attitüde a la Thin Lizzy und sogar dezente Bruce Springsteen – Einflüsse lassen sich ausmachen.
Dem psychodelischen Opener und Titeltrack steht mit Being Begotten eine düstere Blues – Ballade an der Seite, dem Led Zeppelin beeinflussten Demon Driven Man das seichte Tunnel gegenüber.
Das Richtung U2 tendierende Untrue Color begeistert hier ebenfalls, genauso wie das fast schon poppige In This Land.
Alles in allem eine gelungene Weiterentwicklung, die sich in einem vielfältigen, zeitlosen Album ohne Schwächen wiederspiegelt und hoffentlich gebührende Anerkennung findet.
Trackliste:
01 Solas
02 Beautiful World
03 Battle Cry
04 Untrue Colour
05 In This Land
06 Thief Of Light
07 Being Begotten
08 Left Me Standing
09 Demon Driven Man
10 Real Life Dreamers
11 Tunnel
Besetzung:
Cormac Neeson – Gesang
Paul Mahon – Gitarre
Michael Waters – Bass
James Heatley – Schlagzeug
The Answer im Internet:
Homepage