Band: The Theander Expression
Titel: Strange Nostalgia
Label: Avenue Of Allies
VÖ: 2013
Genre: AOR/Melodic Rock, Melodic Hard Rock
Bewertung: 3,5/5
Written by: Thorsten Jünemann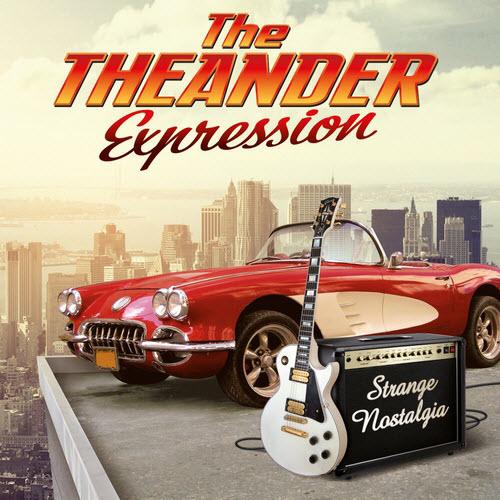 Kleine Lust auf eine Zeitreise in die 80er?
Als Melodic Rock und Melodic Hard Rock im TV liefen und AOR aus dem Radio tönte?
Wie?
Schon vergessen?
Naja kein Wunder…bei dem heutigen Programmangeboten…egal ob Radio oder TV…
Doch zum Glück gibt es immer noch genug junge Menschen, die Gefallen an dem Sound dieser vergangenen Zeit haben, dazu gehört auch der Schwede Andree Theander!
Schon recht gut rumgekommen, suhlt er sich mit seinen Mitmusikern (u.a. Göran Edman, uvm) im typischen TOTO/SURVIVOR/BAD ENGLISH/STREET TALK/FM/TREAT-Sound und schafft ein Album welches zwar über dem Durchschnitt liegt, aber nicht vollzählig punkten kann weil nicht jeder Song einer Rakete gleicht sondern hier und da auch mal der ein und andere Füller sich eingeschlichen hat! Auch vor "Fusion-artige" Sounds wie in "Sanguine" macht man keinen Halt.
Doch am meisten stört mich, das die guten Songs auch von den genannten 80er Helden hätten sein können, mir fehlt an diesem eigentlich sehr ordentlichem Album ein wenig die Selbständigkeit! Handwerklich gibt es überhaupt nix zu meckern, auch der Sound ist mehr als gut! Sehr extrem plüschig-kitschige Balladen wechseln sich mit hymnisch anmutenden gute Laune AOR Songs ab,…
Genrefreunde werden hier bestimmt mehr als der gestandene Hardrocker auf ihre Kosten kommen, aber mehr als 3,5 von 5 Punkten kann ich hier beim besten Willen nicht locker machen…
Tracklist:
01. Conception of Life
02. Strange Nostalgia
03. Insanity Cell
04. Like a Chameleon
05. Sanguine
06. Feelings of Luxury
07. Mr. Know-It-All
08. Masterpiece in the Dark
09. Meet Me There Tonight
10. Champagne Wishes and Caviar Dreams
Besetzung:
Andrée Theander (guit)
Christian Hedgren (voc)
Göran Edman (voc)
Michael Ottosson (keys)
Linus Abrahamson (bass)
Herman Furin (drums)