Band: This Ending
Titel: Garden of Death
Label: Apostasy Records
VÖ: 22.04.16
Genre: Melodic Death Metal
Bewertung: 4/5
Written by: Peter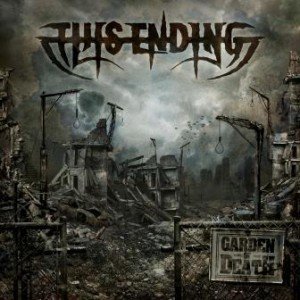 This Ending sind eine routinierte Melodic Death-Truppe aus Ikea-Lands Hauptstadt Stockholm. Schon in den 1990er-Jahren war man mal unter anderem Namen aktiv. Was sie auf ihren drittem Album des neuen Milleniums Garden of Death vorlegen, folgt genau der Formel, die man seit jeher musikalische vertrat: Melo-Death der Göteborg-Schule. Das mag im Jahre 2016 nicht mehr der Gral der Originalität sein, aber wenn man seinen Stiefel so konsequent und hochqualitativ durchzieht, hat das auch ein gewisses Maß an Respekt verdient.
Die Band bietet auch auf ihrem Neuling Todesstoff, der oft von Hi-Speed und thrashigen Riffs lebt, dann aber im Refrain wie gewohnt zu eingägigen Refrains übergeht; auch die von mir geliebten Maiden-Gedächtnis-Gitarrenleads sind an den erwartbaren Stellen vorhanden. Die neuen Songs machen Spass, und das ist gut so. This Ending sind für LiebhaberInnen der genannten Zutaten ein erstes Highlight des Jahres.
Tracklist:
01. Torrent of Souls
02. Blackened Shrine
03. Boundaries of Hell
04. Dark Samaritan
05. Garden of Death
06. Victims
07. World of Nightmares
08. Chaos Within
09. Vultures
Besetzung:
Mårten Hansen – Vocals
Linus Nirbrant – Guitars
Peter Nagy – Guitars
Linus Pettersson – Bass
Fredrik Andersson – Drums
This Ending im Internet:
This Ending @ Facebook
This Ending Official Homepage