Band: Time to Bleed
Titel: Die With Dignity
Label: Kernkraftritter Records
VÖ: 08.01.16
Genre: Death Metal
Bewertung: 4/5
Written by: Totti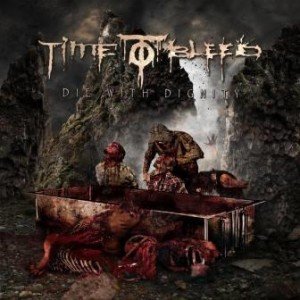 Knapp 7 Jahre Bandbestehen (inkl. diverse Besetzungswechsel, 1 EP, vielen Gigs) haben TIME TO BLEED gebraucht, um ihr 1. Album "Die With Dignity" nun auf die Death Metal Fanschaft los zulassen.
Beeindruckt hat mich von Anfang an der kompetente Sound und der sehr international klingende Bandname, den man sich merken sollte denn von den Braunschweigern sollten wir noch eine Menge hören…
Roher, purer Death Metal ohne Geschnörkel a la Debauchery wird dem Hörer geboten, der zwar zwar das berühmte Rad nicht neu erfindet, aber ordentlich daran dreht.
Das Album geht in einem Rutsch gut ins Ohr, einzelne Songs kann ich nicht wirklich hervorheben weil mir immer wieder das Besondere fehlt, was mich auch zur Höchstnote bewegen kann.
Ich mache viel Wut und jahrelanges Können in der Musik aus, ich höre Grooves und rasend schnelles Todesblei (hier und da sei auch ein kleiner Vergleich mit Cannibal Corpse und den Göttern Bolt Thrower erlaubt!), und doch fehlt mir irgendetwas…
Ist es letztendlich die Eigenständigkeit?
Immer noch weit besser, als die meisten Veröffentlichungen in dem Genre bis jetzt in diesem Jahr, aber irgendwie doch schon mal gehört…was nicht heißen soll, das es schlecht ist oder gar langweilt;
Hier geht schon ordentlich und empfehlenswert die Post ab, aber trotzdem fehlt noch etwas für die Handvoll…besonders auffällig: die extrem tight-klingende Arbeit an den Drums, was wiederum auch an Kataklysm erinnert…
Letztendlich sollten das die Todesmetaljünger selbst für sich entscheiden denn Anchecken ist hier mal Pflicht!
4 von 5 Punkte – Achja, merkt euch den Namen: TIME TO BLEED…ich schwöre, wir werden von denen noch viel mehr hören…
Tracklist:
01. Soil Their Bodies 04:19
02. Die with Dignity 05:58
03. Impaled 02:37
04. From Darkness to Death 05:22
05. Self Created Gods 04:09
06. Messenger of Death 04:21
07. Devastation 04:02
08. Violated 05:03
09. The Surgeon 05:03
Besetzung:
Marc (voc)
Juan (guit)
Fabian (guit)
Hannes (bass)
Benny (drums)
Internet:
Time to Bleed @ MySpace