Band: War Agenda
Titel: Night Of Disaster
Label: MMD Records
VÖ: 2015
Genre: Thrash Metal
Bewertung: 4.5/5
Written by: Lex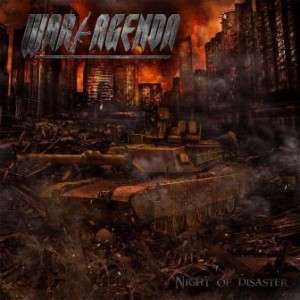 Deutscher Bay Area-geprägter Thrash Metal aus Deutschland von feinster Qualität kommt da unter dem Titel "Night Of Disaster" in meine Box geschmettert. Genau so muss das klingen! Scheinbar mühelos gelingt den Frischlingen War Agenda auf ihrem Debüt der Spagat zwischen hart-treibenden Riffs, prächtigem Groove und der richtigen Portion an Melodien.
Fern davon, dem Hörer auf die Nerven zu gehen, kristallisieren sich schon beim ersten Durchgang gleich mehrere persönliche Favoriten heraus wie etwa "Geocide", "Night Of Disaster" oder das mächtige "Time Heals Nothing".
Stilistisch kommen mir als Vergleich am ehesten die Bay Area-Legenden Exodus in den Sinn. Hier und da denkt man vielleicht auch an Slayer. Dabei kommen War Agenda allerdings eigenständig und vor allem so frisch und tötungswütig unverbraucht daher, dass die deutsche Gruppe solche Vergleiche weder nötig hat noch vom Niveau her scheuen muss. Im Gegenteil: Mir fährt dieses Debut zumindest besser ein als das neue (sicher nicht schlechte) Werk der alten Totschläger.
Anspruchvolles Riffing möglichst eingängig und unkompliziert klingen zu lassen ohne auf ausgeklügeltes Songwriting verzichten zu müssen, so lautet das Motto der Gruppe – und dem werden die vier Mannen mehr als gerecht.
Richtig starker und relevanter Thrash Metal.
Tracklist:
01 Shot To Pieces
02 Geocide
03 The Wait
04 Sentenced
05 Night Of Disaster
06 Time Heals Nothing
07 Mosh
08 Destiny Of A Mad Man
09 Gone But Never Forgotten
10. Axis Of Evil
Besetzung:
Marsel (Vocals)
Nils (Guitar)
Ingo (Guitar)
Joe (Bass)
Hamdi (Drums)
Internet:
War Agenda Website