Weight Of The Tide – All Told
Band: Weight of the Tide
Titel: All Told
Label: Undergroove
VÖ: 29.09.17
Genre: Modern Heavy Metal
Bewertung: 2/5
Written by: Jasmin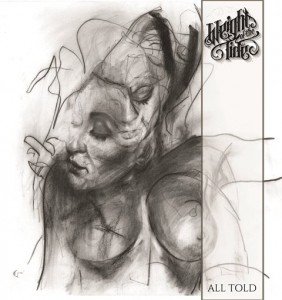 Weight of the Tide sind eine Heavy Metal Band aus Reno, bestehend aus Mitgliedern der Death Metal/Metalcore Formationen December und Cranium.
Passend zur Herbstdepression oder Winterverstimmung haben sie eine sehr kurze, nicht einmal 30Minuten dauernde, Scheibe veröffentlicht – was auch gut so ist, schließlich will man nicht ewig in dieser melancholischen Stimmungslage bleiben oder diese gar noch verschlimmern.
Dennoch besitzt dieses doch sehr düster anmutende Werk, das aus satten fünf Tracks besteht, einige eingängige, härtere Gitarrenriffs, die jedoch viel zu schnell von einer viel zu gut gemeinten Portion Schmalz und einer Stimme, die sehr viel Mitleid erweckt, wieder zunichte gemacht werden.
Lobend zu erwähnen ist hierbei aber definitiv das Coverdesign, das so verspielt romantisch-ästhetisch anmutet, dass es sich als Poster an der Wand sehr gut eignen würde.
Tracklist:
01. All Told
02. The End Becomes You
03. Architect
04. Years like Days
05. For all Tomorrows
Besetzung:
Mark Moots – Vocals, Guitar
Jason Thomas – Drums
Jes Phipps – Guitar, Vocals
Marcus Mayhall – Bass
Internet: