Band: Wizard
Titel: Fallen Kings
Label: Massacre Records
VÖ: 16.06.17.2017
Genre: Heavy Metal
Bewertung: 5/5
Written By: Lex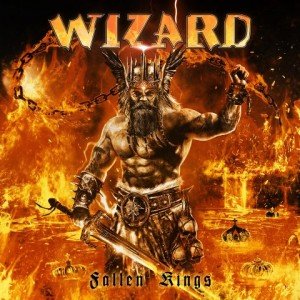 Nach einer diesmal etwas längeren Schaffenspause ist es mir eine wahre Freude, das nunmehr elfte Studioalbum der deutschen Institution für "wahren Metal" vorab zu hören. Das Albumcover von "Fallen Kings" erinnert mich optisch irgendwie an die länger zurückliegenden Werke "Head Of The Deveiver" und "Odin". Das vorab als Lyricvideo veröffentlichte "Liar And Betrayer" wies ebenso in diese Richtung.
Auch wenn ich die letzten, doch immer wieder mit deutlich thrashigen Einflüssen gespickten Alben großartig fand, ist mir dieser Kurs zurück zu den Wurzeln ganz klar willkommen: Es gibt wieder mehr klassischen Wizard-Sound, und nach wie vor wird mit OhOhOh-Chören und Themen wie sterbenden "enemies" nicht unnötig gespart.
Die ersten sechs Songs sind klassische Wizard-Banger, die jeden Fan der Ära "Bound By Metal" bis "Odin" in Nostalgie versetzen sollten
Erst dann geht es wieder etwas mehr in die stilistische Ausrichtung der späteren Alben: "Father and Son", "Let Us Unite", "Frozen Blood" und "You´re The King" hätten durchaus auch irgendwo zwischen "Magic Circle" und "Trail Of Death" ihren wohlverdienten Platz gefunden.
Leider nur auf der Digipack-Version enthalten sind die im besten "Bound By Metal"-Flair gehaltenen Bonussongs, weshalb ich auch dringend zu dieser Version raten muss.
Fazit: Ein starkes Album einer der dienstältesten True Metal- Institutionen, welches alle Schaffensphasen der Band bündelt, mit einem Schwerpunkt auf den Anfangswurzeln. Anspieltipps sind "Liar and Betrayer", "Brothers In Spirit", "Let Us Unite" sowie die Bonussongs "We Are Ready For Metal" und "The King".
Mit Wizard kann der traditionell orientierte Metaller auch anno 2017 nichts falsch machen, und sollte diese Band unbedingt live erleben.
Tracklist:
01. Liar And Betrayer
02. We Are The Masses
03. Live Your Life
04. Brothers In Spirit
05. White Wolf
06. Wizard Until The End
07. Father To Son
08. Let Us Unite
09. Frozen Blood
10. You're The King
11. We Are Ready For Metal (Digipak
Bonus)
12. The King (Digipak Bonus)
Besetzung:
Sven D'Anna (vocals)
Dano Boland (guitar)
Michael Maaß (guitar)
S. van Heek (drums)
Arndt Ratering (bass)
Internet: