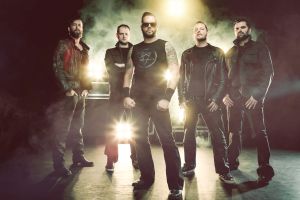 The band was founded about 10 years ago, they released 3 albums in Belgium and the Netherlands, now it's time for their international debut. We are talking about Diablo Blvd and their first international release Follow The Deadlights. Before their concert as a support of Epica we met Singer Alex Agnew, a famous belgian standup-comedian, to talk about their tours, the release and the comparison to Volbeat.
CE: Thanks for taking time so close to the show, you are on tour with Epica, how is it going so far?
AA: Horrible, it's the worst experience in my life, i will never wanna do this again. Lots of people, great crowd, great bands, we get along really well with all those people, its ridiculous, i will never do this again. I'm going to tour little shitty places with a tourmanager that treats you nicely. No, it has been great of course, it has been an awesome tour so far, there are very nice people, there are good shows every evening, a lot of people, nice venues to play. You couldn't ask for more as a band starting out that noone has ever heard of outside of Belgium and the Netherlands, that's really cool.
CE: How would you compare it to the tour you did last year as a support of Machine Head?
AA: Well it is a lot different because when you are touring with a band like Machine Head, i mean now with Epica, they are from the Netherlands, we are from Belgium, we both speak Flemish, that's a kind of Dutch so we speak the same language, the guys from Dragonforce are from all over the place because there is a French guy and an Italian guy in the band, a real European thing, and Europeans are just a little bit relaxed, i mean Americans are … Americans, i don't know how to say that. But i have to say that the Machine Head tour was a great tour, we had a really great time and they are really great guys, but they just try to keep just themselves, i mean here we are all together hanging around backstage. We all have seen each other at the dinner table, everyone is more in communication with each other but with Machine Head it was everything a lil bit more seperate.  We saw them sometimes and when we saw them they were really nice, i can't say anything bad about the tour. The kinda funny thing is, there we were the weird band too because it was Machine Head and Darkest Hour, they are both heavier than we are, and on this tour we are kinda the heavier band what's really funny. It really turned around, we are the guys with the big riffs, not like Dragonforce, they are all about speed and stuff, and we are not. I think it's a relly cool tour.
CE: How would you compare the shows with Diablo Blvd to your career as a comedian before?
AA: I make a lot less money.
CE: And if you think of the crowd, you played in front of 20000 people as a comedian.
AA: I don't care at all. If it was just a fame thing i think i should still do the comedy thing which in Belgium and Holland is really big. To be honest, i did that thing for 15 years and the band is already going for 10 years cause this is our third album and we did a lot of shows in Belgium and the Netherlands, played a lot of big festivals like the Graspop Festival, we played 3 times there or the Pukkelpop Festival which are really big festivals in Belgium. So we have done quiet a lot but we have never toured, we never had the chance to do that outside of Belgium because of my career as a comedian. I was on stage 5 times a week, that's kind of hard and no label outside of Belgium would sign you if you don't tour. In order for this band to really achieve its potential i had to quit comedy at least for a while, i mean i have always wanted to to that music thing and i am really happy that it's working out. As soon as we got signed by Sony in Belgium the album chartet on number 5 in the regular pop charts which is kind of insane in Belgium, having a rock or metal band in the charts. I think Nuclear Blast took notice, i think they were interested in the last album too, but it didn't happen for some reason, the biggest reason was that i couldn't tour, but now it did happen and since we got signed to them it all got really quick.
CE: You released your first international release last week, are you satisfied with the reaction outside of Belgium and the Netherlands so far?
AA: The press has been really great, i mean the press in Germany has been unbelievably good, also in England, we got a very good review of the Metal Hammer over there, great reviews from Australia and the US, places were people never could have heard of us. We did phoner interviews, guys telling us we got a great album and they just can think who are you guys, we have never heard of you, and we just can say, noone has ever heard of us outside of Belgium. It's really cool cause its almost like releasing your first album, because for the most parts of the world it is the first album and you maybe recognize that you found this band because of that album. So i think it's an important album but it's also the right one to do it because we have got the experience now, we have been around long enough, recorded 2 albums before which we think they are also great albums, but this is the more mature one, we've grown as musicians and as songwriters, i think it fits now that this is the album that everyone is gonna hear.
CE: A lot of people comare your sound to Volbeat, especially because of your voice. How would you describe your music?
AA: To be honest, i understand what they mean but if you hear me singing and put Michael Poulsen next to me we don't sound that much alike. It's maybe just because we have those big voices, those kind of rock type voices. I also think that Volbeat has that Rock'n Roll or rockabilly thing on which we don't have, i think we are darker than Volbeat and there are really lot of influences in the band so i really don't know what to call ourselves. I think we are all fans of the same things which are classic things like Black Sabbath, things like Danzig, things like Metallica, Type O Negative is also one of my biggest influences. We mixed all of them together and i just call it metal to keep it simple, some people think it's more rock, i would say its somewhere in between rock and metal.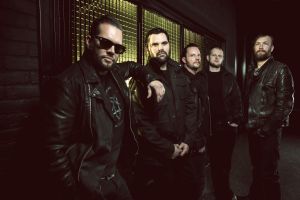 CE: You had a famous mixer at the last album, Jens Bogren. Who helped you with Follow The Deadlights?
AA: It has been mixed by Jay Ruston who did Stone Sour and Steel Panther and Anthrax and it was mastered by a guy named Paul Logus who has done the most insane things like the Cemetary Gates single by Pantera to Puff Daddy's Come With Me to Toxic by Britney Spears, i am not shitting you, these are huge names and when we saw the names he did we really got insane. We didnt find Paul Logus ourselves, i found Jay Ruston when listening to The House Of Gold And Bones by Stone Sour in the car and just thought, this sounds really huge, and i also had the Worship Music album by Anthrax in the car, i was just listening to music to find out sounds that i like, and that one also sounded great so i wondered who mixed it and both are done by Jay Ruston. The funny thing is, i told Andries who is the guitar player, we both write most of the music together, and Andries said that he will mail him, he will ask him and this is really true, we were recording a song at his home cause he has a home studio, we were working on a song and we got mail and oh, it's Jay Ruston and he said it sounds great cause we sent him a song that he knows what kind of sound we make, and yes he said you guys sound great, i will do it, my price is this, and we just said yes we can afford him. Yes and we asked him if he does the mastering too and he said no, i am working with a guy called Paul Logus, he has done things like Clutch or Pantera, and we said oh great. We were looking at what he was doing else and found things like Puff Daddy and Britney Spears and a lot of other big things. But we were really happy with Jens too, we did mail Jens too but he was busy with a lot of other things, it would have taken a little bit too long, but he is a great guy too. But Jay Ruston and Paul Logus did a great job, it really sounds huge, it sounds American. The last album was kind of a Swedish album because the guitars sound like that aggressive metal thing,  but this one is less aggressive and more huge.
CE: It's really sounding a lil bit like the latest Stone Sour.
AA: Oh yes it is, but i also got a lot of other comparisons like Danzig or James Hetfield but i can really live with it, as long as it is not Hansi Hinterseer, i am not happy about everything. But my mom really likes Hansi Hinterseer.
CE: It sounds like he is famous in Belgium too.
AA: Oh yes, he is famous in Belgium, my mom is from a part in Belgium called Limburg which is close to the German border and all of my family grew up listening to German music so i know a lot about those things and that's the reason why i am listening to heavy metal.
CE: Well you could try a cover album then.
AA: Oh forget it, this is bad enough as it is. Let's not encourage anyone to do this.
CE: Like Heino.
AA: Oh Heino and who is he called, oh yes Herbert Grönemeyer, he has that weird kind of voice. Or Semino Rossi, isn't that the guy with that curly hair, oh my mom really likes that crack. She likes that better than my music, she just puts that on cause its her son singing, she is just saying she likes the slow songs best.
CE: Have you ever thought of translating your comedy program?
AA: I have done some english shows here and there and it was okay. But i always think that if you want to do something you have to be 100% behind it, you can't do 5 things just a little bit so to me everything i do is Diablo Blvd now. I may think about it if that albums fails spectacularly and nobody is interested in us anymore and we can't get any more shows, then i might consider but as long as it is going, and it is going well at the moment i dont want to do and this now is what i am going to do.
CE: Since you released Follow The Deadlights a year ago in Belgium, what are the plans for the band in the future? Are you already starting to write new songs? Are you playing some festivals?
AA: Well we are playing a lot of festivals this summer, i really can't confirm all of them, i think Summer Breeze is one of them, the Rock Hard, the With Full Force, Metaldays and stuff like that. I hope some more concerts are coming, we are supposed to do a UK-tour but i can't confirm cause our booking agent is still working on it. The idea is to play as much as we can everywhere. I think the plan for the next 2 years is touring our asses off.
CE: What do you think about media like YouTube or Facebook. Are they good for the music scene?
AA: In some way they are good for the music scene, in other ways it's satan. I think social media is a tool you need to use if you want people to know that you are out there and doing something. On one way facebook is a thing that, as it started, is to communicate with people, but nowadays it's just for people and their self-aggrandizing bullshit and they want their oppinions to be heard to everything.  In the good old times you used to have bullshit oppinions in bars where you never gonna talk to that asshole again and move to the other side of the bar, have a drink and ignore him. But if you write it down a lot of people think that it's an oppinion that matters, it's not, it's just an asshole sitting in his mom's basement, 35 years old wearing a Star Trek t-shirt, telling you your band is bullshit and you just can think fuck you man. But every man is a hypocrit, if someone has a bad oppinion you say fuck you, if someone is telling you he loves your band you want to have a beer with him. So it can help or it can hurt. The only thing that surprises me and that bothers me is that you don't have to do it face to face, there is really a lot of low bullshit on there, they say the most horrible things about someone, they would never say if the guy is sitting right in front of them and that's what i dont like about it. I don't have a problem if someone doesn't like my music and tells me he doesnt like. But sometimes there is so much hate like the guys of Metallica should get cancer, but why? Because you don't like Lulu? Well that would be a reason, that's really one of the worst things i heard in my life. You know what i mean, it's somethink you can like but sometimes better stay away from it. I also have a lot of experience in being a celebrity in the country i am from. That's even more rediculous, they even talk about everything as if everything in your personal life is interesting which it is not. There is no rock star at home, just a normal guy like anyone else. I have to hire someone that puts my garbage out, but it's still me.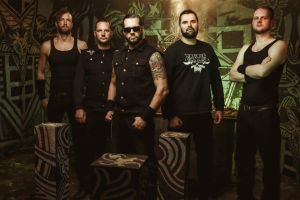 CE: I think i am at the end of my questions, the last words are yours.
AA: Never plant sprouts in the summer. What should the last words be? Well check out our music, or live shows if you can. We are really worth listening, there are a lot of bands out there that are shitty but we are really okay.