Band: Cloudscape
Titel: Voice Of Reason
Label: Dead End Exit Records
VÖ: 08.01. 2016
Genre: Progressive/Power/Melodic Metal
Bewertung: 4/5
Written by: Daniel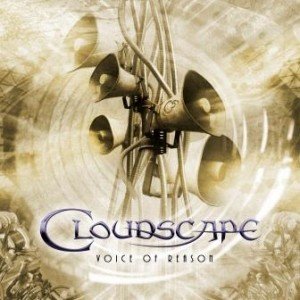 Die Schweden gelten seit Jahren als Geheimtipp und werden trotz hervorragender Kritiken zu jedem Release immer nur am Rande wahrgenommen. Ich persönlich habe CLOUDSCAPE auch nur in den tiefsten Windungen meines Gehirns abgespeichert und, wie ich mit dem Genuss des mittlerweile fünften Albums nun weiß, eine Menge verpasst.
Die Band macht mit VOICE OF REASON einen weiteren Schritt in Richtung Melodic Metal, hat sich aber für progressive Parts genug Raum gelassen.
Das sorgt dafür, dass die durchweg eingängigen Refrains nie zu platt sind (neudeutsch auch sabatonisch) und man selbst mit den vielschichtigeren Songs Leute, welche sonst schon alleine beim Begriff "Progressive" oder dem lesen dieses viel zulang gestalteten Satzes Kopfaua bekommen, nicht überfordert.
Das Rad erfindet man natürlich nicht neu, was der Opener New Design sogleich mit seinen an Images And Words erinnernden Neoprog – Sounds offeriert. Jedoch sorgen ein moderner Groove und der Ohrwurmrefrain und die weltklasse Performance von Sänger Michael Andersson für Profil.
Während Futuristic Psycho beinah perfekt die Balance zwischen straight und verspielt hält und mit seinem orientalischem Touch für "das gewisse Etwas" sorgt, sind Don't Close Your Eyes (mit seinen Metropolis – Part I – Keys), das mir einen Tick zu platte All for Metal und Thunders Of Extreme vorwiegend im Melodic bzw. Heavy Metal beheimatet. Tolle Hooks, ergreifende Gitarrenarbeit und die Vermischung des Bandsounds mit eingängigen Einflüssen (erinnert an Dokken und Lizzy Borden – Glanztaten) machen diese Tracks zu Dauerbrennern.
Die Höhepunkte sind aber die zwei längeren Songs. Das akkustisch beginnende In Silence We Scream ist an atmosphärischer Dichte (diese Keyboardsounds und Feinheiten in der Gitarrenarbeit!) und musikalischer Dramatik einfach meisterlich.
Mit Voice Of Reason hat die Band laut Info wohl erstmals in ihrer Geschichte einen Titletrack am Start, und der ist wirklich das Herzstück des Albums.
In den über elf Minuten bietet man hypnotische Keyboardsounds a la Yes, erreicht fast die Magie von Rush und kann zumindest annähernd an die Genialität von Dream Theater heranreichen.
Nicht zu verfrickelt und nicht zu eingängig stehen CLOUDSCAPE zwischen den Stühlen. Wer Bands wie Pagan`s Mind, Kamelot und Symphony X zu seinen Lieblingen zählt wird an VOICE OF REASON genauso wenig vorbei kommen wie der anspruchsvolle Melodic Metal Fan.
Hört auf die Stimme der Vernunft und checkt das Album an!
Trackliste:
01. New Design
02. Futuristic Psycho
03. Don't Close Your Eyes
04. All for Metal
05. Voice of Reason
06. Thunders of Extreme
07. Needle in the Eye
08. In Silence We Scream
Besetzung:
Michael Andersson – vocals
Patrik Svärd – guitars
Stefan Rosqvist – guitars
Håkan Nyander – bass
Fredrik Joakimsson – drums
Cloudscape im Internet: