Bands: AVATAR & The Last Band Date: 9. 12. 2016 Venue: Backstage Halle, München

Zwei Jahre ist es schon her, dass Avatar im Backstage in München gespielt haben, damals, wie heute mit einem frisch erschienenen Album. "Feathers and Flesh", das erste Konzeptalbum der Band kam schon bei den Kritiken sehr gut weg, nun konnten sie auf dieser Tour beweisen, dass die neuen Songs  auch Live ein Knaller sind. Vor zwei Jahren im Club spielten sie vor ca. 100 Leuten und dieses Mal bekamen Avatar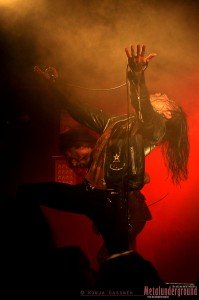 eine Art Upgrade, das Konzert fand in der vollen Halle des Backstages statt.
Den Anfang machten "The Last Band" auch aus Göteborg, Schweden. Mit einer Mischung aus Hard Rock und Punk begeisterten sie das Publikum. Die ganze Band hatte die Menge voll im Griff und eine geniale Stimmung ging von beiden Seiten aus. Besser könnte man ein Publikum nicht für den Hauptact vorbereiten.
Um ca. 21 Uhr war es dann endlich so weit. Avatar schritten auf die Bühne. Es hat sich wirklich sehr viel in diesen 2 Jahren entwickelt. Das Bühnenbild ist jetzt viel größer und dem Stil des neuesten Albums angepasst. Wie der Fronter Johannes im Interview vor der Show (–> hier nachzulesen)
schon erzählte, präsentieren sie uns bei der  "Feathers and Flesh" Tour eine Bühnenshow, die noch nicht einmal die Amerikaner von ihnen zu sehen bekamen. Die Lichtshow, die Kostümwechsel einfach alles passte perfekt zusammen. Die fünf Schweden wissen, wie man eine Show abliefert. Die Musiker waren, wie immer top drauf und spielten alte Klassiker, wie "Black Waltz", "Hail the Apokalypse" und "Smells like a Freakshow", sowie auch Hits der neuen Platte.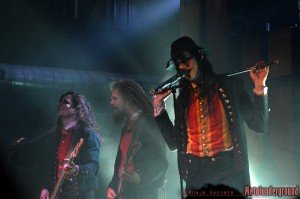 Wer Avatar kennt, weiß, dass sich die Band visuell als eine Art Zirkus präsentiert und Johannes den Gruselclown – Ringmaster darstellt, was natürlich live wieder alles perfekt abrundet. Die Fans waren mehr als begeistert und Avatar bekommen bei dieser Tour endlich die Anerkennung, die sie verdienen.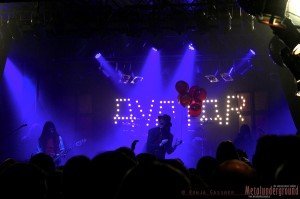 War klar, dass die Fans das Ende der Show nicht akzeptieren wollten, aber nach ca. 1 ½ Stunden war dann auch endgültig Schluss. Avatar verabschiedeten sich und die Menge bebte. Diese Band ist wirklich jedes Mal wieder einen Besuch wert. Egal, wie oft man sie schon gesehen hat, sie begeistern einen bei jedem Konzert wieder aufs Neue. Wer noch nie die Chance hatte sie live zu erleben, der muss leider bis zur nächsten Tour warten, denn die "Feathers and Flesh" Tour endet am 17. 12. In Göteborg, Schweden.