Band: Age Of Artemis
Titel: The Waking Hour
Label: Power Prog Records
VÖ: 2014
Genre: Melodic Heavy Metal
Bewertung: 5/5
Written by: Lex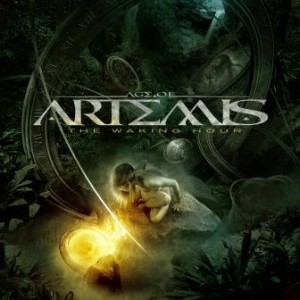 Brasilien – Heimat hemmungslos herumflennender Profifußballer und herumzappelnder Karnevalsärsche – ist allgemein nicht gerade als Hochburg gut gemachten Heavy Metals bekannt, erfolgreiche Landsmänner hin oder her. Umso mehr darf der Hörer staunen, dass mit "The Waking Hour" von eben dort eine junge Band namens AGE OF ARTEMIS ein derart erstklassiges Geschoss abgefeuert hat.
Technisch äußerst versiert, verspielt bis hin zum Progressive Metal, aber viel zu songdienlich agierend um dieses Schimpfwort verdient zu haben, erinnern die Songs gerade in den ruhigen Momenten manchmal an die Griffbrettmathematiker von DREAM THEATER, wenn diese Seelen zu ihren Gehirnen hätten. Das fast schon Thrash-artige Riffs bis hin zu leisesten Piano-Tönen umfassende Klangspektrum verschmilzt gekonnt und nahtlos zu wiedererkennbaren, gut aufgebauten Songs, denen eine gemeinsame Identität innewohnt, welche dieser jungen Band zu eigen ist. Experimentelle klangliche Einsprengsel bereichern den Sound, anstatt ihn unnötig zugunsten einer falsch verstandenen Experimentierfreudigkeit zuzukleistern.
Wer auf detailreichen, dennoch eingängigen Heavy Metal mit viel Melodie und Highlights steht, sollte schnell Kolumbus spielen und AGE OF ARTEMIS entdecken. Bis auf das Intro, das überflüssig ist wie fast alle Intros, ist hier wirklich ALLES als Anspieltipp geeignet.
Tracklist:
01. Penance (Intro)
02. Under The Sun
03. Broken Bridges
04. The Waking Hour
05. Hunger And Shame
06. Melted In Charisma
07. Childhood
08. Your Smile
09. Exile
10. New Revolution
11. Winding Road
12. Take Me Home (Piano Version; Bonustrack)
Besetzung:
Alírio Netto (Vocal)
Nathan Grego (Guitars)
Gabriel "T-Bone" Soto (Guitars)
Giovanni Sena (Bass)
Pedro Senna (Drums)
Internet:
Age Of Artemis Website