Band: AMNIAC
Titel: Infinite
Label: Selfreleased
VÖ: 2014
Genre: Sludge/Doom Metal
Bewertung: 3,5/5
Written by: Mayhemer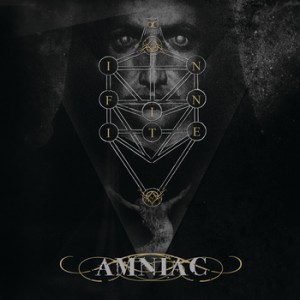 Die Griechen Amniac haben sich vor ca. vier Jahren gegründet. Infinite ist deren erstes Full Lengh Album, zuvor gab es nur ein Live – Demo mit dem Namen "Dias Xela Leurc". Deren Debut also ist eine gelungene Abwechslung zu sonstigem Doom/Sludge dieser Tage. Amniac veruchen nämlich mit "Infinite" tatsächlich aus den üblichen Genregrenzen auszubrechen. Dies gelingt in den meisten Fällen und davor Hut ab. Die Jungs veröffentlichen mit Songs wie "And The Others Just Survive"  und "A System Waiting To Fail" kleine Hits, wohingegen der Titeltrack "The Infinite so… naja ist… . Zwei der sieben Songs sind eine Art Intermezzo, die durchaus für Stimmung sorgen und den Hörer in die richtige Richtung treiben. Die Stimme wurde leicht in den Hintergrund gemixt, setzt nur dort ein, wo sie wirklich notwendig ist und hat somit auch das Prädikat Instrument verdient. Sehr gut durchdacht. Eine Band mit Blick über den Tellerrand. Das Cover finde ich auch sehr geil gemacht und macht für mich so den Eindruck "… da will ich reinhören". Alles in allem ein wirklich gutes Werk.
Tracklist:
01. And The Others Just Survived
02. Ignorants
03. Rise Like The Suns
04. Discerning
05. The Infinite
06. A System Waiting To Fail
07. Our Kind The Plage
Besetzung:
Upsetter: guitar,vocals
Antony : guitar
Tsaros: drums
Dimitri: bass
Internet:
Amniac @ Reverbnation