Band: Ashes You Leave
Titel: The Cure For Happiness
Label: Rock'n'Growl Records
VÖ: 2012
Genre: Gothic Metal / Doom Metal
Bewertung: 3/5
Written by: Thorsten Jünemann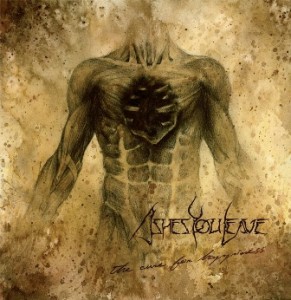 ASHES YOU LEAVE machen genau da weiter wo sie auf dem Vorgänger aufgehört haben, aber nicht im Sinne von Evolution oder Veränderungen, Experimenten, o.ä.!
Geboten wird immer noch Gothic Meal mit leichtem Doom-Einschlag, der nicht weltbewegend vor sich hinplätschert. Die Damen und Herren aus Kroatien erinnern ein wenig an frühere THE GATHERING ohne Synthyspielereien, dafür aber mit leichten Hang zum Trällern. Musikalisch gibt es nicht viel auszusetzen: die Instrumente werden beherrscht, das Songwriting geht auch ok, nur der Sound lässt ein wenig zu wünschen übrig.
Nein, es handelt sich um keine Kelleraufnahme o.ä., aber professionell klingt eindeutig anders. Grundsätzlich würde ich nun mal behaupten, dass man auf einen Produzenten verzichtet hat, denn viele Parts wären sonst kompletter ausgebaut worden, hat man doch den bitteren Beigeschmack, dass einiges noch etwas unfertig/unausgegoren klingt.
Die Band zieht souverän ihr Steckenpferd durch und wer von Gothic Metal mit Doomanleihen nicht genug bekommt, der sollte das mal anchecken.
Für die Allgemeinheit behaupte ich mal, dass sie erst mal reinhören sollte, denn wie gesagt:
weltbewegendes sollte man von dem Sextett nicht erwarten, was letztlich sehr schade ist, denn ich habe schon beim letzten Album gehofft, dass man sich hier und da etwas weiterentwickelt, denn Stillstand ist der Tod!
Und das haben die Gothic Metaller nicht verdient…
Tracklist:
01. Devil In Disguise
02. Only Ashes You Leave
03. For The Heart, Soul And Mind
04. The Ever-changing
05. Meant To Stray
06. Summer's End
07. Reality Sad
08. The Cure
09. …For Happiness
Besetzung:
Giada (voc)
Bero (guit & voc)
Luka (bass & voc)
Matija (guit)
Marta (violin)
Ana (flute & keys)
Saša (drums)
Internet:
Ashes You Leave Website
Ashes You Leave @ Last FM
Ashes You Leave @ Reverbnation
Ashes You Leave @ MySpace