Band: Claymorean
Titel: Demo 2014
Label: Self Released
VÖ: 2014
Genre: Epic Metal
Bewertung: 1.5/5
Written by: Lex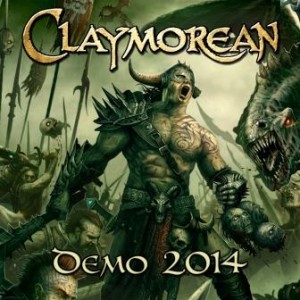 Die Serben CLAYMOREAN  bieten mit dem Demo 2014 einen nahezu kompletten Vorgeschmack auf ihr kommendes drittes Album (Zuvor hat man 2003 und 2013 unter dem dramatisch anders klingenden Banner CLAYMORE zwei Alben veröffentlicht). Dieses Demo enthält sieben eigene Tracks sowie das MANILLA ROAD – Cover "Into The Courts Of Chaos" und kann auf der Bandcamp-Seite von CLAYMOREAN abgespielt werden.
Überaus fanfreundlich, und auch sonst scheinen CLAYMOREAN das Metal Heart am rechten Fleck zu haben, soweit Songtitel und das Dark Fantasy Coverartwork beweisen – wenigstens soweit es meinen nach Klischees dürstenden Geschmack anbelangt, dem keine noch so inflationäre Verwendung der Vokabel steel, glory, sword, victory, dragon (und so weiter) häufig genug erscheint.
Aber dann kommt die Musik: Das pseudo-episch vor sich hin säuselnde, überladene Matschgebilde "Heldenhammer" ist eine schändliche Kreuzung aus Epic Metal und ranzigem Gothic/Symphonic Metal Kitsch. Bäh. Dann geht es etwas aufwärts mit 6 ganz netten, aber eher fürs regionale Niveau geeigneten, ereignis- und energiearmen Epic Heavy Metals, dessen einziges halbwegs hervorstechendes Prädikat eine weibliche Frontfrau ist. Die Dame singt recht durchschnittlich, aber allemal besser als der hier und dort aushelfende zusätzliche männliche Vokalist. Das MANILLA ROAD – Cover… das hab ich mir lieber nicht angehört. Würde ohnehin kein Album rausreißen, wenn bis auf eine Fremdkomposition alles andere nur braune Banane ist.
Eine unterirdische Nummer und sechsmal stabiler unterer Durchschnitt, gekrönt von einem nicht bewerteten Cover… Trotz Sympathien ist da nicht mehr als 1.5/5 Punkten drin. Aber folgt ruhig dem Link, anhören kostet in diesem Fall ja nichts.
Tracklist:
01. Heldenhammer
02. Gods Of Chaos
03. The Everchosen
04. IronHide
05. Dreamer On A Path Of Light
06. Silent Guardians
07. We Fight Like Lions
08. Into The Courts Of Chaos
Besetzung:
Dejana Garčević (Vocals)
Miodrag Fodora (Vocals)
Vladimir Garčević (Guitars)
Goran Garčević (Bass)
Aleksandar Canković (Drums)
Internet:
Claymorean @ Bandcamp