Band: Convulse
Titel: Cycle Of Revenge
Label: Svart Records
VÖ: Bereits erschienen
Spielart: Death Metal
Bewertung: 3/5
Written by: Peter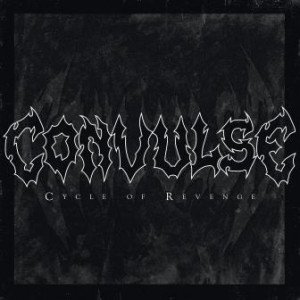 Convulse sind eine eigentlich schon sehr dienstalte Todesbleikapelle aus Finnland – sie wurde bereits 1988 unter anderem Namen gegründet, legte zwischendurch aber eine Pause ein, die nicht kürzer als von 1994 bis 2012 dauerte. Dennoch kann man bereits auf zwei Alben und einige EPs und Demos zurückblicken. Mit Cycle Of Revenge folgt nun Langeisen Nummer drei aus Suomi – man versucht also nach der Wiederaufnahme der Gruppe vor vier Jahren im wohl dritten oder vierten Frühjahr doch noch sowas wie den Durchbruch zu schaffen.
Aber wenn ich ehrlich bin, von einer Mannschaft, die massig Zeit hatte, am Comeback zu schrauben und das Songwriting so gut wie möglich zu gestalten, hätte ich mir doch etwas mehr erwartet. Die dritte Langrille aus dem Landes des gepflegten Suizids und Saufens ist eher melodischer Death Metal, erinnerte mich häufiger an die ganz frühen Sentenced. Das ist nun nicht wirklich originell und die Songs sind allesamt nicht übel, aber auch keiner mehr denn gehober Durchschnitt. Ein "bisserl mehr" hätte es dann schon sein dürfen.
Tracklist:
01. Cycle Of Revenge
02. God Is You
03. Pangaea
04. Fractured Pieces
05. Nature Of Humankind
06. Ever Flowing Stream
07. War
08. Into The Void
Besetzung:
Rami Jämsä – Guitar, Vocals
Juha Telenius – Bass
Rolle Markos – Drums
Convulse im Internet: