Band: Crisix
Titel: From Blue To Black
Label: Listenable Records
VÖ: 18.03.2016
Spielart: Thrash Metal
Bewertung: 4/5
Written by: Peter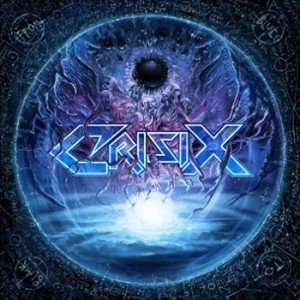 Crisix aus Spanien konnten sich ja aufgrund ihrer mitreissenden Live-Auftritte und ihrer bisherigen Ouputs bereits einen für eine erst 2008 gegründete Band einen wirklich guten Namen erspielen. Mit dem neuen Album From Blue To Black treten die Thrash-Boys aus Barcelona nun erneut an, um mächtig Arsch zu treten.
Wenn man die neue Scheibe im Player rotieren lässt, wird das heimische Wohnzimmer zum Moshpit, den man alleine befüllt. Immer wieder erwischte ich mich dabei, wie ich meinem Kater, der mich pikiert ansah, "EEEXXXOOODDDUSSS!!!" und natürlich "SSSLLLAAAYYYAAA!" ins Gesicht brüllte. Das heißt soviel wie: auch die neue Scheibe aus Sangria-Land mach ordentlich Bock. Sie enthält Thrash Metal im Bay Area-Stil der 1980er-Jahre – in der Regel gespielt im ICE-Tempo, auch technisch über jeden Zweifel erhaben. Wirklich gute Mucke, das!
Warum ich "nur" vier Punkte vergebe, ist das mir die Übersongs mit dem absoluten Killerriffs fehlen und man wirklich nicht von Originalität sprechen kann. Dennoch, liebe Thrash-JüngerInnen: Unbedingt dazu probe-moshen! Vielleicht vorher dazu die Katze rauslassen.
Tracklist:
01. Conspiranoia
02. Journey Through The Fire
03. G.M.M. (The Great Metal Motherfucker)
04. T-Terror Era
05. Psycho Crisix World
06. From Blue To Black
07. Strange
08. Five As One
09. Fallen
Besetzung:
Juli Bazooka – Vocals
Javi Carry – Drums
B.B. Plaza – Guitars
Albert Requena – Guitars
Dani Ramis – Bass
Crisix im Internet:
Crisix Website