Band: Corpset 
Titel: No Rest
Label: Violent Journey Records
VÖ: 2013
Genre: Death/Thrash Metal
Bewertung: 3/5
Written by: Oliver Lackner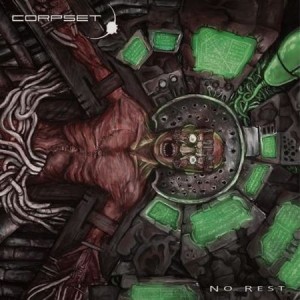 Album Nummer zwei der finnischen Thrasher "Corpset" steht seit 20. September in den Regalen. "No Rest" nennt sich das gute Stück. Wie rastlos uns das ganze macht sehen wir uns jetzt kurz an.
Beim Blick auf die Tracklist ist gleich mal klar… die Jungs vollziehen ihre Musik auf die "Mitten in die Fresse rein" Prinzip. Songtitel wie "Piss On My Grave" oder "Let The Shit Hit The Fan" entlocken mir jedes Mal aufs Neue ein Lächeln. Ohne große Bedeutung aber mit erhobenem Mittelfinger. Gleich mal ein Pluspunkt.
Album also angeworfen, Opener "No Rest" gehört. Feine Sache, Thrash der alten Schule. So was macht dann auch Lust auf mehr. Die meisten Titel bleiben kurz und knackig, lediglich einen neun Minute Ausbrecher gibt's, welcher auch tatsächlich recht langatmig wird und man dadurch wie magisch zum NEXT Button gezogen wird.
Das Grundprinzip ist klar und macht richtig Spaß. Old School Thrash gemischt mit fein melodiösen Parts. Der generelle Druck ist ok, Riffs machen Laune auch wenn es jetzt nicht wirklich was Neues oder Außergewöhnliches ist. Auch für den Gesang gilt dasselbe, ok jedoch nicht über-drüber.
Fazit: Ein feines Album für Zwischendurch. "No Rest" erweist sich als genau das, was versprochen wird. Old School Thrash mit Melodie. Eine gelungene Abwechslung und nette Rückblick in alte Tage jedoch auch nicht mehr. Tatsache jedoch ist, dass "No Rest" erst das zweite Album der Finnen ist und daher reichlich Potential für Entwicklung besteht. Man darf auf künftige Werke gespannt sein. Dran bleiben!
Tracklist:
01. No Rest
02. Piss on My Grave
03. Pitch Black
04. Lord of the Flies
05. Prophet's Opiate
06. War Inside
07. You Sin
08. Futile
09. Let the Shit Hit the Fan
Besetzung:
Antti Murtonen (voc)
Petri Palonkoski (bass)
Jari Kelloniemi (guit)
Jami Heikkala (guit)
Timo Hanhijoki (drums)
Internet:
Corpset @ MySpace