Band: Crypt Sermon
Titel: Out Of The Garden
Label: Dark Descent
VÖ: 2015
Genre: Doom Metal
Bewertung: 5/5
Written by: Thorsten Jünemann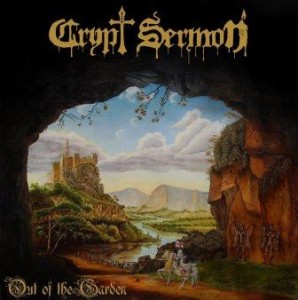 Uih…da haben die Amerikaner ihre Vorbilder a la CANDLEMASS und Co. ordentlich studiert um diesen Trauermarsch-Soundtrack zusammenzubasteln…Nein, das ist kein Nachteil sondern eher als Ritterschlag zu verstehen!
Kein langweiliger, berechenbarer 08/15 Doom Metal sondern eindeutig mit eigener Note versehen und gelegentlichen, passenden Thrash-Einschlägen packen mich CRYPT SERMON aus Philadelphia an den Eiern und feiern eine Beerdigung nach der anderen mit mir…
Und damit wäre doch eigentlich schon beinahe alles gesagt, denn die Jungs haben vom Songwriting bis zum Sound alles richtig gemacht und das sollte auch ohne große Umschweife mit der Höchstpunktzahl belohnt werden!
KEIN langweiliger berechenbarer Doomtrott sondern ein empfehlenswertes Stück Musik, welches sich jeder Freund von frühen Black Sabbath, Saint Vitus, Solitude Aeturnus, und und und…unbedingt zulegen sollte!
Das ist sinnvolles Oldschool Musiktheater, welches in dem Genre für mich auch bereits jetzt ein Highlight des Jahres ist!
Ich mag das Wort "episch" nicht gern benutzen, doch zu "Out Of The Garden" ist es treffender als je zuvor…
Tracklist:
01. Temple Doors
02. Heavy Riders
03. Byzantium
04. Will Of The Ancient Call
05. Into The Holy Of Holies
06. The Master Bouquet
07. Out Of The Garden
Besetzung:
Brooks Wilson (voc)
Steve Jansson (guit)
James Lipczynski (guit)
Will Mellor (bass)
Enrique Sagarnaga (drums)
Internet:
Crypt Sermon Website