Band: Cypecore
Titel: Take the Consequence
Label: Twilight Vertrieb
VÖ: 2010
Genre: Melodic Death Metal
Bewertung: 3,5/5
Written by: Chris Egger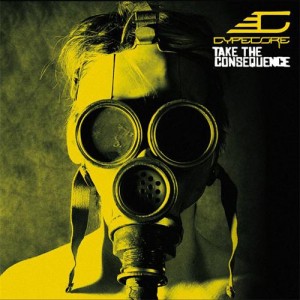 Cyberthrash oder Melodic Industrial Death Metal. Diese Begriffe verbindet man mit der deutschen Band Cypecore. Was uns auf dem neuen Album Take The Consequence dargeboten wird?
Nach einem schrägen Intro, welches wohl die Industrial Seite der Band zeigen soll, geht es aber bis zum Outro doch in eine Richtung, die doch eher als reinen Melodic Death Metal bezeichnet werden kann. Man orientiert sich schon ziemlich stark in die Göteborger Ecke (Torn Apart könnte instrumental fast von In Flames kommen). Es ist zwar immer sehr viel Abwechslung geboten – man tendiert manchmal sogar zu Sentenced Klängen, die härter Ausfallen. Es bleibt aber nicht nur dabei, man legt sogar noch eine Brise Meshuggah (Sick Sad Sittle World) und auch wieder ein paar eigene Ideen drauf. Instrumental passt hier wirklich alles, am Gesang ist auch nicht viel auszusetzen, ist aber nichts Besonderes. Überzeugen kann auch die Produktion, die wirklich druckvoll geworden ist.
Fazit: Kein schlechtes Melodic Death Metal Album, einige coole Riffs sind auf dem Album vertreten, im Großen und Ganzen haben aber Cypecore sicher nicht das Album des Jahres erschaffen.
Tracklist:
01. Intro
02. Values Of Life
03. The Lie Of Redemption
04. The Balance
05. Plague
06. Moment Of Impact
07. Coma Vigil
08. Sick Sad Little World
09. Torn Apart
10. Feel The Ground [Devastated]
11. And The Sun Will Never Rise Again
12. Outro
Besetzung:
Attila Erdélyi (voc)
Lucas Buttendorf (drums)
Nils Lesser (guit)
Christoph Rogdakis (guit)
Christoph Heckel (bass)
Internet:
Cypecore Website
Cypecore @ Last FM
Cypecore @ MySpace