Band: Days Of Loss
Titel: Our Frail Existence
Label: Noisehead Records
VÖ: 2014
Genre: Death/Thrash Metal
Bewertung: 4,5/5
Written by: Oliver Lackner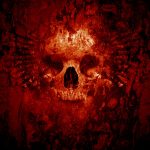 Langsam wird mir die einheimische Szene wirklich Unheimlich. Nach dem Kracher Album von Scarecrow N.W.A folgt eine weitere riesen Überraschung. Die Rede ist von Wiener Quintett "Days Of Loss" mit ihrem aktuellen Longplayer "Our Frail Existence".
Nachdem ich grad etwas wenig Übersicht auf meiner To Do List hab, hab ich heute Morgen, verschlafen wie ich noch war, einfach mal blind was ausgewählt. Sollt ich öfter tun. Ein gemächliches Intro während dem Kaffee köcheln welches sich langsam in Tempo und Umfang steigert sodass man einen klaren Vorgeschmack auf das zu erwartende bekommt.
Melodic Death vom feinsten, anders kann ich´s eigentlich nicht beschreiben. Die Tracks strotzen geradezu vor Energie und fein abgestimmten Melodien. Riffs und Vocals kämpfen nicht um die Vorherschafft sondern sind in perfekter Harmonie mit sämtlichen vorhandenen Elementen.
Richtig eingebrannt hat sich der Titel "Catharsis". Die Parallelen zu älteren Werken der Meister von In Flames sind einfach nicht von der Hand zu weisen. Wer´s nicht glaubt darf sich ja gerne mal auf die Suche begeben. Allerdings soll das nicht heißen, dass "Days Of Loss" Copycats sind. Ganz und gar nicht. Die Titel sind frisch und unverbraucht und machen nach mehrmaligem Hören eigentlich immer mehr Spaß. Mit jedem Durchlauf konnte ich weitere, Gänsehautverursachende Passagen entdecken.
Fazit: HAMMER! Es ist schon fast traurig wie Stiefmütterlich die einheimischen Death/Melodic Death Bands im Vergleich zum Einheitsbrei der derzeit angesagten Genres behandelt werden wenn solch hohe Qualität vorhanden ist. Mit "Our Frail Existence" hat man wirklich alles richtig gemacht. Nicht nur Fans der Szene kommen hier auf ihre Kosten. Dieser Silberling hat definitiv das Potential einen größeren Kreis anzusprechen.
Tracklist:
01. Prelude 02:04
02. Through Empty Eyes 04:03
03. This Frail Existence 04:47
04. Await Pain 03:48
05. Endtime 05:28
06. Catharsis 03:53
07. Wearing the Ashcrown 04:30
08. Corpsemourn 03:35
09. Circle's End 03:26
10. Thanatology 04:28
Besetzung:
Ben Pauswek (voc & bass)
Alexander Schmid (guit)
Max Fingernagel (drums)
Ken Straetman (guit)
Wolf Labmayer (bass)
Internet:
Days of Loss @ MySpace