Band: Dead By April
Titel: Worlds Collide
Label: Relapse Records
VÖ: 07.04.2017
Genre: Post Hardcore, Metalcore, Alternative Metal
Bewertung: 3,5/5
Written by: Rubi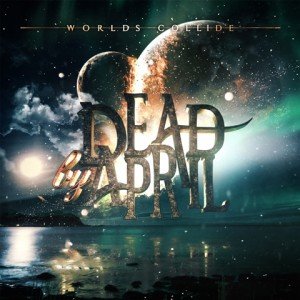 "Dead By April" dürften keine Unbekannten mehr sein, seit 2009 sind sie bereits aktiv und erklimmen die Leiter zum Ruhm immer gekonnter. Kann das vierte Album "Worlds Collide" an den Erfolg anknüpfen?
Spannung baut sich vor dem Hören der Platte schon durch den Blick auf das Cover auf. Doch die Erwartungen sinken schnell nach dem ersten Song, in dem es um sogenannten "Herzschmerz" nach einer Trennung geht. "Aber es gibt ja noch 10 weitere Songs.", denke ich mir und versuche ohne voreingenommen zu sein den nächsten Nummern eine Chance zu geben. Auf "I Can't Breath" folgt "Playing With Fire" – beides an sich nicht schlechte Songs, doch spätestens nach dem 04. Track wird mir bewusst mit wem ich es zu tun habe.
Denn die ein oder andere Zeile hat bei mir Stirnrunzeln ausgelöst, wie z.B. der Refrain aus "Can You See The Red":
I'm gonna break, break, break your face
Better run, run, run away
Before I break, break, break your face
Better run, run, run away…
Scheint ganz so, als musste da jemand seinen Frust auslassen…
An den Texten scheinen sie nicht allzu lang feilen zu wollen, stattdessen setzen sie gekonnt auf kraftvolle Gitarrenriffs vermischt mit Electronic Elementen. Clean Vocals sowie Screamed Vocals kommen abwechselnd zum Einsatz. Auch der ständige und teilweise plötzliche Tempowechsel sorgt dafür, dass das ganze nicht zu fad wird. Das einzige auf das ich warten musste war der Bezug zum Coverartwork sowie Titel. Dieser kam dann in Form des Tracks "Our Worlds Collide" – wer hätte das gedacht? Das erste und einzige Lied, bei dem ich mir einen Bezug vorstellen kann. Also keine deepen Methapern erwarten! Erwähnenswert ist auch der Genreausreißer am Ende, "For Every Step" ist eine Kollaboration mit Tommy Körberg, einem schwedischen Sänger, Schauspieler und Musicaldarsteller.
Mir fehlt es bei dieser Scheibe etwas an Persönlichkeit und Tiefe, wobei ich das Album aber trotzdem weiterempfehlen würde, denn es mag ja welche geben denen Texte egal sind und die nur auf die Musik hören, solchen Menschen könnte dieses Album gefallen. Vor allem durch die immerhin unterhaltsame Musik!
Tracklist:
01. Crying Over You
02. I Can't Breathe
03. Playing With Fire
04. Warrior
05. Breaking Point
06. My Heart Is Crushable
07. Can You See the Red
08. Our Worlds Collide
09. This Is My Life
10. Perfect The Way You Are
11. For Every Step
Besetzung:
Pontus Hjelm – Vocals, E-Guitar, Keyboard
Marcus Rosell – E-Bass
Christoffer Andersson – Gesang
Marcus Wesslén Drums
Internet: