Band: Death Angel
Titel: The Evil Divide
Label: Nuclear Blast
VÖ: 27.05.16
Genre: Thrash Metal
Bewertung: 4,5/5
Written by: Peter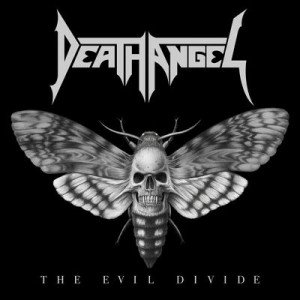 Im Thrash Metal, den sie ab den 1980er-Jahren selbst federführend mitbegründeten, stellen Death Angel seit eben diesem Jahrzehnt eine Institution dar. Zwar hatte man sich zwischenzeitlich aufgelöst, dann aber im zweiten Anlauf zu neuer Stärke und Popularität zurückgefunden. Mit The Evil Divide legen die Multikulti-Thrasher mit philippinischen Wurzeln ihren neuesten Ouptut vor. Und die Mannen enttäuschen auch diesmal nicht: Geboten wird melodischer Thrash Metal, diesmal eher straight und weniger experimentierfreudig, aber jederzeit hochqualitativ. Mit den elf neuen Tracks (inklusive Bonustrack) beweist die Band, dass sie gerade mit Mark Osegueda einen Vokalisten in ihren Reihen haben, der es schlicht wirklich draufhat. Egal ob aggressive Shouts oder melodischer Klargesang – seine Vocals sitzen und verleihen den Songs den gesungenen Zuckerguss. Ich vergebe nur deswegen nicht die volle Punktzahl, da sich im Backkatalog von Death Angel noch stärkere Alben mit Klassiker-Status befinden.
Tracklist:
01. The Moth
02. Cause for Alarm (featuring Jason Succof)
03. Lost
04. Father of Lies
05. Hell to Pay
06. It Can't Be This
07. Hatred United/United Hate (featuring Andreas Kisser)
08. Breakaway
09. The Electric Cell
10. Let the Pieces Fall
11. Wasteland (bonus track)
Besetzung:
Rob Cavestany – guitars
Mark Osegueda – vocals
Ted Aguilar – guitars
Damien Sisson – bass guitar
Will Carroll – drums
Death Angel im Internet:
Death Angel Website
Death Angel @ MySpace