Band: DECAYED
Titel: Into The Dephts of Hell
Label: Hellproduction Records
VÖ: 31.03.2015
Genre: Black Metal
Bewertung: 3/5
Written by: Mayhem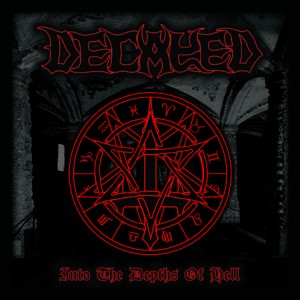 Portugals Black Metal Urgestein "DECAYED" feiern mit "Into The Dephts of Hell" ihr bereits 25-jähriges Bestehen. Darauf mal mit einem schönen kühlen Blonden angestoßen und von meiner Seite aus ebenfalls gratuliert. Könnt ihr euch noch an die Zeiten erinnern, als Gorgoroth, Satyricon, Immortal und Darkthrone die Schwergewichter und Superstars der Szene waren? Es war in einer Zeit, als mit geringen Mitteln, ohne viel Glanz und Gloria, aber viel Härte der Teufel angebetet wurde und mit niedriger Qualität in der Produktion und den folgenden Videos Monsterriffs und Alben erzeugt wurden, die heute noch ihresgleichen suchen. Black Metal at its Best!. "DECAYED" sind in dieser Zeit geboren worden und auch steckengeblieben. Die neue CD macht mit wenig Aufwand genau das, was eine Black Metal Band machen muss: Die Musik verkörpern, die Musik leben, den Black Metal atmen. So gesehen also ein verdammt geiles Album und jederzeit zu empfehlen für Nostalgiker und auch Entdecker, die wissen wollen wie Black Metal aus dem Jahre 1990 ins Jahr 2015 übetragen klingen soll und muss! Das Rad haben "DECAYED" zwar nicht neu erfunden und es ist alles schon mal dagewesen, aber was soll´s. Die Mucke macht Laune und Welcome to the 1990 ies!
Tracklist:
01. Into Hellish Depths (Intro)
02. Beyond the Grave
03. The Realm of Nis
04. Winged Beasts
05. Di Manes
06. Of Anath and Mot
07. Omens of Doom
08. From Hell They Rise
09. The Rite of Darkness
10. Ravenous Spectres
Besetzung:
Vulturius – Unholy Death Yells and Four Strings Desecration
JA – Six Strings Massacre and Death Yells
Tormentor – Leather Skins and Death Metals
Live drums by Nocturnus Horrendus.
Internet:
DECAYED Website
DECAYED @ MySpace