Band: Dimmu Borgir
Titel: Forces of the Northern Night
Label: Nuclear Blast Records
VÖ: 2017
Genre: Symphonic Black Metal
Bewertung: 5/5
Written by: Ronja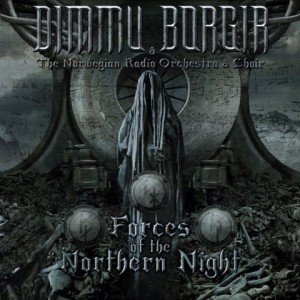 Als sich Dimmu Borgir, 1993 gründeten, konnte sich noch keiner vorstellen, dass sich so etwas Großes und Mächtiges aus dieser Black Metal Band entwickeln würde. Heute ist Dimmu Borgir nicht mehr aus der Szene wegzudenken. Man kann sie schon längst nicht mehr nur als "Black Metal" bezeichnen, denn sie haben sich seit ihrem Beginn um so vieles weiter entwickelt. Produktionen mit großen Orchestern waren bestimmt eine Herausforderung für so manche Fans des klassischen "Kassettensound Black Metals"; doch nicht umsonst sind Dimmu Borgir heute da, wo sie sind.
In dem Livealbum "Forces of the Northern Night" stehen nicht nur neuere Hits auf der Setlist, Tracks aus allen Epochen der Bands haben es in das Programm geschafft. Dies führt zu einer wunderbaren Abwechslung, bei der für Oldschool Fans, sowie auch für Fans der neueren Stücke etwas dabei ist.
Es ist schon ein Unterschied, ob Chor und Orchester per Sample eingespielt werden – oder so wie bei dieser Produktion, sie direkt live auf der Bühne vertreten sind. Nicht nur Optisch wirkt das sehr mächtig, wie auf der dazugehörigen Live DVD zu sehen ist, sondern der Sound wird dadurch einfach einzigartig. Allein schon durch das Hören der CD fühlt man sich, als würde man inmitten der Menge stehen. Bei diesem Livealbum ist das "Live" noch wirklich zu spüren.
Dimmu Borgir waren schon immer Meister ihres Faches, sie verstehen es einfach sich zu präsentieren und sind sich auch nicht zu schade neue Einflüsse auszuprobieren. Genau das macht diese Band aus.
Fazit: Dieses Livealbum macht sehr große Lust auf zukünftige Konzerte und das Warten auf das bevorstehende neue Album wird auch noch verkürzt. Definitiv ein Muss für Fans und die, die es noch werden wollen.
Setlist:
01. Xibir
02. Born Treacherous
03. Gateways
04. Dimmu Borgir
05. Dimmu Borgir
06. Chess With The Abyss
07. Ritualist
08. A Jewel Traced Through Coal
09. Eradication Instincts Defined
10. Vredesbyrd
11. Progenies Of The Great Apocalypse
12. The Serpentine Offering
13. Fear And Wonder
14. Kings Of The Carnival Creation
15. Puritania
16. Mourning Palace
17. Perfection Or Vanity
Besetzung:
Shagrath – vocals
Silenoz – guitars
Galder – guitars
Current live line-up:
Daray – drums
Gerlioz (Brat) – keys
Cyrus – bass
Internet: