Band: Earth Crisis
Titel: Salvation of Innocents
Label: Candlelight Records
VÖ: 2014
Genre: Hardcore
Bewertung: 3,5/5
Written by: Robert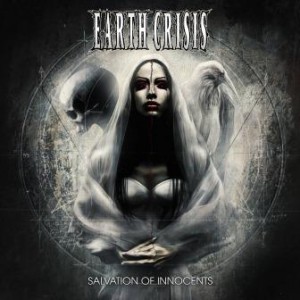 Earth Crisis, der Name kommt mir bekannt vor, doch kennen tut meine Wenigkeit die Burschen nicht (obwohl bereits von Kollegen Winkler schon der Vorgänger rezensiert wurde). Hier haben wir es mit einem wirklichen Dinosaurier der Core Szene zu tun. Bereits 1989 – 2001 fungierten die Burschen recht eifrig. Nach einer kurzen Auszeit ging es 2007 erst wieder weiter. Das nunmehr achte Album "Salvation of Innocents" erscheint via Candlelight Records. Man hört sogleich raus, dass die Burschen wirklich den Titel Core Legende wahrlich verdienen. Fakt ist aber auch dass man eine Klientel bedient, welches sehr dicht gesiedelt auf diesen, durchaus als Old School Sound bezeichneten Beat steht. Genau hier macht man eigentlich alles richtig und donnert recht mächtig, wenn auch zu Beginn deutlich straighter. Erst ab dem dritten Track versucht sich die Formation aus New York an etwas durchdachteren Vibes. Auch vor melodisch-chor artigen Attitüden schreckt man nicht zurück, was als Abwechslung durchaus positiv zu sehen ist. Erweitert einfach den Sound der Formation meiner Meinung nach gelungen. Produktion, wie auch die Stimmung der Stücke sind sehr gut und wissen zu unterhalten. Thrash – Riffs, Breakdowns sind ausreichend vorhanden und die Mischung die man sich auferlegt hat ist wirklich gut, wenngleich man das Mittelfeld nicht ganz durchdringen kann, denn von einer so lange agierenden Kapelle erwartet man sich dann deutlich mehr. Man erfüllt alle Klischees keine Frage, doch Innovativ klingt heutzutage deutlich anders. Somit darf man das Langeisen durchaus gut genießen, doch man vermisst einfach ein gewisses etwas. Der Arm der Überzeugungskraft reicht einfach schlussendlich nicht ganz aus und somit tschingelt man im Gegensatz zu vielen Nachwuchskapellen eher im Mittelfeld daher. Nichts ist wirklich schlecht, aber leider auch nicht spektakulär.
Fazit: Alte Helden, welche ihrem Status nicht ganz gerecht werden, denn mehr als gutes Mittelmaß für den Metal/Hardcore Helden gibt es hier leider nicht.
Tracklist:
01. De-Desensitize
02. Out Of The Cages
03. Shiver
04. The Morbid Glare
05. Razors Through Flesh
06. Depraved Indifference
07. No Reason
08. The Pallid Surgeon
09. Devoted to Death
10. Into Nothingness
11. Tentacles of The Altering Eye
12. Final Breath
Besetzung:
Karl Buechner (voc)
Bulldog (bass)
Dennis Merrick (drums)
Erick Edwards (guit)
Scott Crouse (guit)
Internet:
Earth Crisis @ MySpace