Band: Electro_Nomicon 
Titel: Unleashing The Shadows
Label: No Remorse Records
VÖ: 2013
Genre: Melodic Heavy / Power Metal
Bewertung: 5/5
Written by: Robert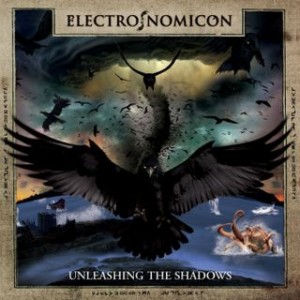 Electro_Nomicon aus Seattle aha und was machen die? Melodic Heavy/Power Metal. Gut das kann viel heißen und lässt mich etwas Schlüsse auf die True lastige Schiene ziehen. Ah ja wer steckt hier hinter dem Posten des Fronters, unglaublich ist Ronnie James Dio von den Toten auferstanden? Mit welcher behände hier der Sänger beim Album "Unleashing The Shadows" vorstellig wird, verleiht mir zwischenzeitlich einen Hörgasmus. Einfach Potentiell brandgefährlich würde ich sagen, denn die leicht oftmals galoppierenden Thrash Attitüden vereint man mit gelungen mit den urtypischen Ingredienzien des Heavy/Power Metal. Dass man aber so dermaßen endlosgeil aus den Boxen rotiert, ist meiner Meinung nach der Verdienst des Fronters, welcher einfach eine Art und Weise an Gefühle bringt, welche wohl bis dato nur von einem so umgesetzt wurden und dies war eben Sangesgott Ronnie. Hier können sich viele Nachläufer und Möchtegern Söhne verstecken, denn Diego Valdez ist ihnen alle eine Nasenlänge voraus. Rhythmisch werden gute Schneisen geschlagen und die Verzierung der Stücke wirkt nicht zu Plagiat orientiert in den True Bereich. Sicherlich und das steht außer Frage man halt einen Kultfaktor in die Stücke eingebaut, dieser wirkt sicher aber nicht abgelutscht aus, nein eher bietet diese Stimmungsmache viel Fun vor dem Player und jagt einem selbstredend jeden Pepi vom Kopf. Somit etwas mehr für die ältere Generation? Hm ja und nein, denn durch den gewissen Charme hat man schon die erwähnte fest im Würgegriff, doch auch jüngere Metal Fans können hier viel für ihre Sammlung entdecken, sofern sie halt dem genannten Genre hold sind. Die gemischte sphärischen Metalrunde mit dieser aus Seattle stammenden Combo macht einfach Spaß und wirkt eben zu keinem Zeitpunkt abgefahren oder tausendmal gehört. Mir verleiht es auch nach dem x-ten Durchlauf eine Gänsehaut, denn das was hier zusammen mit dem Sänger gezaubert wurde ist einfach eine Huldigung und das Motto: der König ist tot, lange lebe der König passt hier einfach wie die Faust aufs Auge.
Fazit: Endlosgeil was uns hier seitens Electro_Nomicon kredenzt wurde. Eine vakante Formation, welche sich alte, wie auch junge Fans geben muss. Für DIO Fans ist dies ein neuer Freudentag, denn authentischer klingt wohl niemand. Weder Sound noch Sänger technisch!!!!
Tracklist:
01. The Art of Destruction 03:56
02. I Believe 04:16
03. Waiting 06:05
04. Do You Remember 04:30
05. Take Me 03:50
06. Dark Flight 03:47
07. You Are in Shadows 03:43
08. New Beginning Day 03:35
09. Far Away 05:19
10. Pieces of a Dream 04:18
Besetzung:
Owen Bryant (drums)
Juan José Fornés (guit, bass & keys)
Diego Valdez (voc)
Internet:
Electro_Nomicon Website
Electro_Nomicon @ MySpace
Electro_Nomicon @ Reverbnation