Band: Enceladus
Titel: Journey To Enlightenment
Label: Self released
VÖ: 19. August 2014
Genre: Power Metal
Bewertung: 3/5
Written by: Lazer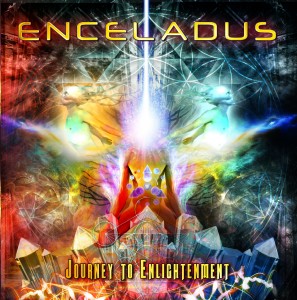 Seit 2012 lärmen Enceladus aus San Antonio in der Weltgeschichte rum. Im August diesen Jahres gehen die Jungs aus Texas – nach ihrem 2013 veröffentlichtem drei Track-Promo Time In A Dream – nun mit ihrem ersten full-lenght Album Journey To Enlightenment an den Start.
54 Minuten lang drücken Enceladus hier ohne Rücksicht auf Verluste auf die Tube. Besonders bestechend sind die überschnellen Gitarrenspuren und das wirklich treibende Schlagzeug. Also gitarrentechnisch sind sie wirklich top unterwegs. Teilweise könne man glauben, die Spuren wurden nicht gespielt, sondern im Guitar-Pro einfach getapped. Wirklich überzeugend.
Weniger überzeugend wirkt aber das Gesamtwerk. Die Jungs haben es nicht wirklich geschafft, die Tracks abwechslungsreich zu gestalten. Immer und immerwiederkehrender Aufbau der Songstruktur. Stimmlich noch nicht am Zenit angekommen, ist Soikkam zwar hörbar stets bemüht, dennoch reizt er seine Kopfstimme manchmal schon sehr aus. Leider werden die 13 Songs dann doch schnell eher ermüdend und anstrengend.
Mein Fazit: Enceladus sind eine noch junge Band, mit offensichtlich vorhandenem Potential. Auf Seiten der Saiteninstrumente kann man ihnen keinesfalls Unprofessionalität vorwerfen. Jedoch fehlen dem Album und den Tracks die Highlights – das gewisse Etwas, das die Band auszeichnet, warum man sich das Album unbedingt kaufen sollte.
Tracklist:

01. Journey To Enlightenment
02. Live Or Submit
03. Seven Year Solstice
04. Awakened Eyes
05. Ethereality
06. Frigid Vigor
07. Pave The Future (Save Our Minds)
08. Darkened Aura
09. Time In A Dream
10. Wings Of Time
11. Break Away
12. Ancestral Venture
13. Book Of Pure Evil (Bonus Hidden Track)
Besetzung:
Soikkam – Vocals
Geo – Guitars
Judas – Bass
Internet:
Enceladus Website
Enceladus @ Youtube