EXSOM – ROUNDTRIP
Band: EXSOM
Titel: ROUNDTRIP
Label: Eigenregie
VÖ: Oktober 2017
Genre: Classic Heavy Metal
Bewertung: 4/5
Written by: Dr. Maze Pain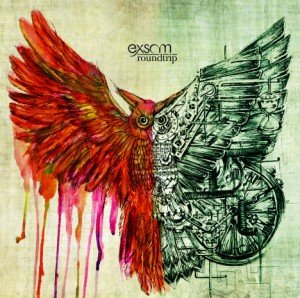 Eine neue Band haben wir hier am Start. Die Jungs mit Bandnamen EXSOM stammen aus dem italienischen Teil der Schweiz, genauer genommen aus der Stadt Lugano (mit einem wunderbaren See und perfekter Bergwelt) welche sich im Kanton Tessin befindet. Geographiestunde beendet. Der musikalische Werdegang der noch sehr jungen Band beginnt mit der Gründung 2011 und der anschließenden Veröffentlichtung von 2 Demos in Eigenregie. Diverse Konzerte, Festivalauftritte sowie einer Mini – Tour durch Bulgarien festigten den Namen einer aufstrebenden Band. Nun, 2017, nach signifikanten Änderungen im Bandgefüge sowie am Stil,  liegt mir deren  EP "Roundtrip" vor.
Das Album beginnt schon mal ordentlich erdig und hart mit dem Opener "Roundtrip". Dieser Song zeigt schon mal die Richtung an. Wahrlich gut gemachter Heavy Metal, der Laune macht. Mit "The Window" werden dann auch noch klassische Bands bedient, die den Flair der 1980iger Jahre geprägt haben. In diesem Ton geht es dann auch weiter. Cleane Parts geben sich die Kante, genauso wie an diversen Stellen sich Metal und Progressivität die Klinke in die Hand geben. Die gesamte EP ist stark.
Die Mitglieder verstehen ihre Instrumente, können hervorragende Songs schreiben und Stefano Dell'Ava´s Stimme ist verdammt facettenreich. Ich hoffe, dass das Full-Lenght Album nicht allzu lange auf sich warten lässt (und die Songs der EP nicht erneut drauf sind).  Daumen hoch! Rock on
Tracklist:
01.Roundtrip
02.The Window
03.It's Not The End
04.Myself And I
05.I Scream You Bleed
Besetzung:
Tullio Roccasalva – Guitar.
Juri Vukusic – Guitar.
Stefano Dell'Ava – Voice.
Uoue Sedili – Drums.
Piter Ferrari – Bass Guitar.
Internet: