Band: Eyefear
Titel: The Inception Of Darkness
Label: Limb Music Music
VÖ: 2012
Genre: Progressive Power Metal
Bewertung: 2,5/5
Written by: Thorsten Jünemann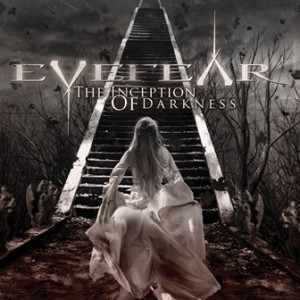 EYEFEAR sind eine Prog-Metal Band aus Australien, die auch eigentlich aus Italien hätten stammen können. Mein persönlicher Alptraum wenn ich es schon in der Info lese, denn meist ist es mit hyperschnellen Passagen und Kastratengesang verbunden.
Dies trifft bei EYEFEAR nur partiell zu, denn Danny Cecati (Pegazus) hat eine recht kräftige und dunklere Stimme als befürchtet und hinterlässt einen positiven bleibenden Eindruck.
Aber musikalisch versucht man doch eher seinen großen Vorbildern nachzueifern, die da eindeutig unter anderem die früheren DREAM THEATER wären.
Das Album wirkt zu überladen und die Schuld daran liegt auch an den viel zu häufigen Tempowechseln, dem deathigen Growls, den weiblichen operettenhaften Gesangseinlagen, u.v.m.
Leider bleibt nix hängen außer:
Das ist alles nur geklaut…
Wenn sich die Band darauf besinnen würde, nicht nur (unterschwellig?) Vorbilder zu kopieren, auch mal einige Songs in einem Tempo belassen würde (auch das kann progressiv klingen!) und nicht neue Geschwindigkeitsrekorde aufstellen möchte (Ego-Problem der Gitarristen?) und vor allem einen Sänger am Mikro lassen würde und nicht 3 (!!!) Stimmen zum Zuge kommen lässt, wäre genug Potenzial vorhanden, um hier ordentlich zu punkten.
So habe ich es leider mit einem am Durchschnitt kratzenden Prog-Power-Metal Album zu tun, welches mich lediglich dazu bewegt, die CD wieder aus dem Schacht zu nehmen.
Tracklist:
01. Redemption
02. Shadowdance
03. Eyes Of Madnes
04. The Inception Of Darkness Part 1 – Transcending
05. The Inception Of Darkness Part 2 – Reborn
06. Immortals
07. Perfect Images
08. Legions
Besetzung:
Danny Cecati (voc)
Con Papazoglou (guit)
Zain Kimmie (drums)
Evan Harris (bass)
Seb schneider (keys)
Internet:
Eyefear Website
Eyefear @ MySpace