Fireforce – Annihilate The Evil
Band: Fireforce
Titel: Annihilate The Evil
Label: Limb Music
VÖ: 01.September2017
Genre: Power Metal
Bewertung: 3,5/5
Written by: Daniel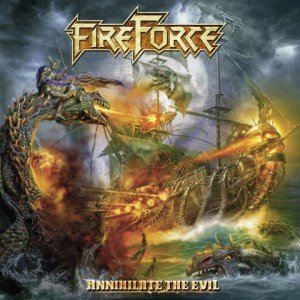 Die aus Antwerpen stammenden Recken lassen den Hörer aufgrund ihrer Authenzität in einer pararellen Zeitlinie vermuten, in der weder der 10 Tage Feldzug noch der französische Einmarsch nebst Schenkung hätte jemals stattgefunden.
Denn ich hätte echt wetten können, daß hier eine Band aus der Bundesrepublik zu hören ist, die sich in Sabaton – Manier mit den Kriegsleiden der Menschheitsgeschichte befasst.
Doch weit gefehlt, die mir bisher unbekannten Belgier sind einfach nur per Definition Fans des markigen, knallharten und kompromißlosen Teutonenstahls der Marken Accept und Grave Digger.
Wobei ich beim ersten Lied und Titelstück eher an die Bayern Deja Vu denken muß, denn der hier vorrangige  "Judas Priest/Painkiller – Stil" bügelt kontrolliert und mit viel Harmonie gleich mal die Loten glatt.
Revenge In Flames, Fake Heroes, Oxi Day und Iron und Steel, Concrete, Granite bilden dabei eine geballte Faust gegen die letzten drei Grave Digger -. Alben, die allenfalls als nett zu werten sind.
Defector (Betrayer Of Nations), The Iron Brigade und Thyra`s Wall sind großartiger Solingen – Stahl mit Birninham – Veredelung für den Kampf um den True Metal, der Rest sehr gelungene Götterverbeugungen Richtung Great Britain.
Geschichtsinteressierte Vollblutmetaller, die Kriege nicht (wie gewisse Schweden) mit Wasserpistolen und aufgemotzten Sportwagen führen, sondern doch lieber mit fettem Kaliber und Panzern in die Schlacht ziehen, sollten FIREFORCE unbedingt eine Chance geben, Genrefans können ohnehin blind zugreifen.
Trackliste:
01. The Boys From Down Under
02. Revenge In Flames
03. Fake Hero
04. Dog Soldiers
05. Oxi Day
06. Thyra's Wall
07. Defector (Betrayer Of Nations)
08. The Iron Brigade
09. White Lily (Okhotnik)
10. Iron, Steel, Concrete, Granite
11. Herkus Mantas
12. Gimme Shelter (Rolling Stones Cover, CD Bonus Track)
Besetzung:
Filip "Flype" Lemmens  – Gesang
Erwin Suetens – Gitarre
Thierry Van Der Zanden – Gitarre
Geert Van Dyck – Bass
Jonas Sanders – Schlagzeug
Fireforce im Internet:
Netzseite