Band: Flashback Of Anger
Titel: Terminate And Stay Resident (T.S.R.)
Label: IceWarrior Records
VÖ: 2014
Genre: Melodic Power/Progressive Metal
Bewertung: 4/5
Written by: Lex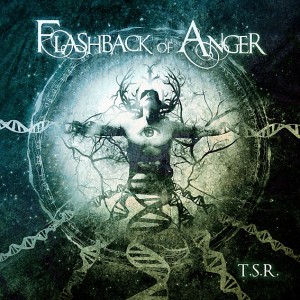 Da geht wieder ein Stern auf für all jene, die da der perversen Leidenschaft für Keyboard-dominierten, melodischen, jedes Soundloch zufrickelnden Spaghetti-Metal mit klaren, bisweilen kräftig in die Euer getretenen Vocals frönen.
Damit ist eigentlich alles gesagt. Wer an der Stelle "Nicht schon wieder" denkt, der sollte die neue FLASHBACK OF ANGER nur erwerben, um die CD in einer Selbstverteidigungssituation zu zerbrechen und als improvisierte Stichwaffe herzunehmen. Oder das Booklet bei sich tragen, falls nach dem Kackengehen allzu spät auffällt, dass keine Klopapierrolle vorhanden ist.
Für alle anderen, wie gesagt, hat Italien unter heftigen Wehen wieder einmal ein prächtiges Melodic Power – Balg ans Licht der Welt gepresst, das der geneigte Erleuchtende gerne in die heimische Anlage aufnehmen und wie sein eigenes hüten wird. Ein klares Genre-Highlight, auch aufgrund der herausragenden Leistung an den Vocals und den perfekten Details, die den wahren Adepten rundum zufrieden stellen. Und was kümmert uns der Rest, wie schon Nietzsche sagte, denn der Rest ist nur die Menschheit.
Anspieltipps: Alles, aber insbesondere "Mother´s Soldier", "Black Prince" und (Verbeugung machen:) "Hiroshima & Nagasaki".
Tracklist:
01. Mother's Soldier
02. False Idols
03. Gynophobia
04. Don't Let Me Fade
05. The Great Fire
06. Black Prince (feat. Fabio Lione on Vocals)
07. Shattered Promises
08. My Angel
09. Hiroshima & Nagasaki
10. Power Play
Besetzung:
Alessio Gori ( Vocals, Keyboards )
Andrea Anichini (Guitars)
Gianmarco Lotti ( Guitars )
Andrea Torricini ( Bass )
Antonio Sigismondi ( Drums )
Internet:
Flashback Of Anger Website