Band: Frank Carter & The Rattlesnakes
Titel: Modern Ruin
Label: Rough Trade
VÖ: 20.01.2016
Genre: Rock
Bewertung: 4,5/5
Written by: Rubi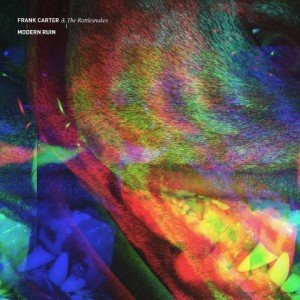 Etwas milder als das Vorgängeralbum "Blossom", jedoch sehr anspruchsvoll und eben typisch Frank Carter. Denn der lässt sich nicht sagen welchen Weg er zu gehen hat. Erst recht nicht wenn es um Musik geht. Die Thematisierung der meisten Songs ist nicht eindeutig wodurch jeder Song anders interpretiert werden kann. Somit kann das zweite Werk der Briten jedes Mal neu entdeckt werden.Tiefe Einblicke in seine Psyche und seine Ansichten auf die Welt gewähren die, Großteils von Frontsänger Frank Carter geschriebenen, Zeilen. Die Lyrics zu "Lullaby" entstanden tatsächlich nachdem er seiner Tochter Nummern von Nirvana als Schlaflieder vorgesungen hatte. Auch die folgenden Texte entstanden meist spät in der Nacht bzw. morgens um 4, denn da ist er am kreativsten behauptet der 32-Jährige.
Der Text zu "Snake Eyes" entstand an einer schlaflosen Nacht, in einem Hotelzimmer in Berlin und beschreibt seine Alkoholprobleme. "No one person can be defined as a single line, we are all made up of multiple complex threads. This video is about cutting the rope, pulling out each thread and celebrating those differences by baring them with confidence and pride." kommentiert der singende Familienvater das Musikvideo zu dem genannten Song. Seine feminine Seite zum Ausdruck zu bringen war das Ziel des Videos, in das er sich als tanzende Dragqueen präsentiert.
Der Song "Thunder" nimmt Bezug auf das leider aktuelle Thema des Terrors und des Rassismus. Auch der Text könnte kaum direkter und ehrlicher sein."They've got bars and bricks and fucking bombs and their dangerous because they don't think they're wrong." Definitiv einer meiner persönlichen Favoriten auf der Platte.
"Neon Rust", unterstreicht das gesangliche Talent von Carter. Emotionaler und ruhiger zeigt sich dieser auf dem letzten Track und verbeugt sich damit am Ende der Scheibe.
Persönlich, ehrlich und kraftvoll – hätte doch niemand anders erwartet!
PS: Tourdates für Shows gemeinsam mit Biffy Clyro stehen bereits fest!
Besetzung:
Frank Carter
Dean Richardson
Tom 'Tank' Barclay
Gareth Grover
Tracklist:
01. Bluebelle
02. Lullaby
03. Snake Eyes
04. Vampires
05. Wild Flowers
06. Acid Veins
07. God Is My Friend
08. Jackals
09. Thunder
10. Real Life
11. Modern Ruin
12. Neon Rust
Internet:
FCATR Website