Band: From Ashes To New
Titel: Day One
Label: Better Noise Records
VÖ: 26.02.16
Genre: Alternative Rock/Metal
Bewertung: 3/5
Written by: Robert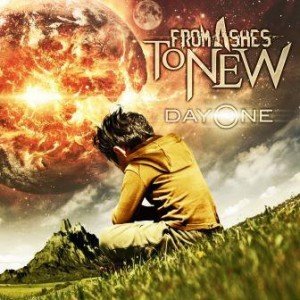 Ein doch eher unbeschriebenes Blatt, mit dem Namen From Ashes To New flatterte in unseren Redaktionsloft. Modern Rock, so zumindest wird der Stil der Truppe beschrieben. Ja und nein muss hier die Antwort lauten. Modern ja, auch kleinere Rock Elemente sind dabei, wenngleich man sich deutlich stärker in den Mainstream Metal Markt begibt. An sich ja eine doch eher verpönte Sache. Die Vermischung an sich erinnert dadurch zwangsläufig, auch was die Einflüsse und Ingredienzien betrifft sehr stark an Skillet. Wer schon mit den Amis nichts anfangen konnte, wird auch hier eher weniger fündig. Vorrangig ist einfach ein modern gemischtes Soundgewebe, welches mit vielen Synthy Elementen durchpflügt wurde. Somit weniger was Neues, aber durchaus frisch gemischt.
Die Wechsel zwischen aggressiven und idyllischen Elementen passt durchaus gut und auch die Elektro Vibes und oftmals etwas Rap lastigen Soundunterwanderungen klingen gar nicht mal so schlecht. Größtes Manko, zumindest was mich persönlich betrifft ist der zu sterile Sound. Man hat zwar produktionstechnisch einiges aufgefahren, sodass man viel Staub aufwirbelt, aber insgesamt klingt man doch etwas zu glatt poliert und nimmt sich so jeglichen rauen Ecken und Kanten. An sich können ja auch etwas aufpolierte Scheiben ganz gut zünden, aber in diesem Falle ist dies einfach doch zu geschliffen. Würde eben mit mehr Groove und einem dreckigeren Sound deutlich knackiger klingen.
Dies heißt aber jetzt nicht, dass die Truppe schlecht ist. Bitte das nicht, denn der Mischsound hat sein besonderes Etwas. Aber eben schrumpft man den Gesamteindruck etwas, welcher eben mit einer satten Groove Keule einfach druckvoller klingen würde.
Demgegenüber stehen die Duettgesänge, abermals jetzt nicht wirklich was Neues, denn wer Skillet schon kennt, wird auch hier keine großartige Überraschung erleben. Dennoch und das steht für die beiden Akteure geben sie wirklich ein tolles Potpourri ins Sachen harmonisch und harten Gesangseinlagen.
Fazit: Allessamt ist dieses Material eher für jüngere Fans, welche auch vor etlichen Mainstream Soundeinlagen nicht scheuen. Die Jünger von Skillet und dergleichen wird das wirklich am meisten interessieren. Altgediente Fans des Rock/Metal werden hier wohl eher einen weiten Bogen machen.
Tracklist:
01. Land of Make Believe
02. Farther from Home
03. Lost and Alone
04. Shadows
05. Through It All
06. Face the Day
07. Downfall
08. Breaking Now
09. Every Second
10. Same Old Story
11. You Only Die Once
Besetzung:
Matt Brandyberry (voc, guit, keys & programming)
Chris Musser (voc)
Branden "Boo" Kreider (guit & voc)
Tim D'onofrio (drums)
Internet:
From Ashes To New Website