Band: Gloryhammer
Titel: Space 1992 Rise Of The Chaos Wizards
Label: Napalm Records
VÖ: 2015
Genre: Melodic Power Metal
Bewertung: 3.5/5
Written by: Lex
Gloryhammer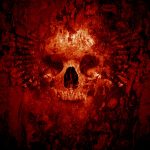 bringt uns dieses Jahr weitere Powermetal-Hymnen rund um den Helden Angus McFife aus Dundee. Beim Konzept des Debuts ging es noch um eine Invasion untoter Einhörner oder so ein Zeug. Diesmal geht es irgendwelchen Chaosmagiern aus dem Weltall an den Kragen, und zwar in der fernen Zukunft des Jahres …1992(?!).
Mit solchen irren Konzepten verbunden mit bierernsten Titeln wie "Goblin King Of The Darkstorm Galaxy" oder "Questlords Of Inverness, Ride To The Galactic Fortress!" könnte man eine mächtige Portion Spaßfaktor in den faden Powermetal-Konzeptalbum-Zirkus bringen, in dem es von lahmarschigen Good-VS-Evil-Alben nur so wimmelt. Leider ist das Songmaterial nur halb so originell: Leicht überproduzierter Fantasy Metal von der Stange eben, der Neues weder bieten kann noch will und gelegentlich einen kleinen Ohrwurm ("Legend Of The Astral Hammer", "Goblin King Of The Darkstorm Galaxy") abwirft.
Letztenendes ist es allein die mit entsprechenden Texten und Kostümen unterlegte Pflege eines (für sich genommen herrlichen) grenzdebilen Fantasy-Image, das die Band wirklich von all den anderen anderen abhebt. Das funktioniert und hebt das Album in der Gesamtwertung nochmal um einen halben Punkt.
Tracklist:
01. Infernus Ad Astra
02. Rise of the Chaos Wizards
03. Legend of the Astral Hammer
04. Goblin King of the Darkstorm Galaxy
05. The Hollywood Hootsman
06. Victorious Eagle Warfare
07. Questlords of Inverness, Ride to the Galactic Fortress!
08. Universe on Fire
09. Heroes (of Dundee)
10. Apocalypse 1992
Besetzung:
Thomas Winkler (Vocals)
Paul Templing (Guitars)
James Cartwright (Bass)
Christopher Bowes (Keyboards)
Ben Turk (Drums)
Internet: