Band: Grave Digger
Titel: Healed By Metal
Label: Napalm Records
Genre: Heavy Metal
VÖ: 13.01.2017
Bewertung: 4/5
Written by Gunther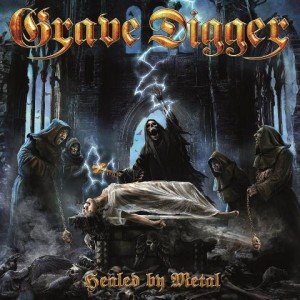 Es gibt nur wenige Bands, die nach gut drei Jahrzehnten noch immer rocken und ihrer Linie dabei treu bleiben. GRAVE DIGGER beweisen mit "Healed By Metal", dass – selbst nach 33 Jahren – alles beim Alten ist…und das ist auch gut so. Schon alleine das CD-Cover dürfte Fans der deutschen Metal Kapelle das Herz höher schlagen lassen. Denn Band-typischer konnten es die Grabschaufler aus Nordrhein-Westfalen wohl kaum gestalten: eine Frau empfängt am Opfertaltar vom Tod persönlich die letzte Öhlung, garniert mit dem klassischen GRAVE DIGGER Schriftzug. Ob die Musik mit dem coolen Cover mithalten kann, wird nun im Folgenden genauer beleuchtet. Der Opener und Titelsong "Healed By Metal" ist ein kräftiger Midtempo Stampfer, welcher mit seinem Chor im Refrain sofort in den Gehörwindungen hängen bleibt. Das mittlerweile 18. Studioalbum von GRAVE DIGGER nimmt dann mit dem darauffolgendem "When Night Falls" Geschwindigkeit an und legt an Härte zu. Teutonischer Stahl, messerscharfe Gitarrenriffs und eine glasklare Produktion sind wohl die Eckpfeiler des gelungenen Sounds von GRAVE DIGGER anno 2017. Bei "Lawbreaker" wird man mit einem Augenzwinkern an JUDAS PRIEST erinnert und das epische "Call For War" mutiert schon mal zur Metalhymne. Leider gibt es auf "Healed By Metal" auch ein paar mittelmäßig gelungene Songs, wie z.B.: "The Commandments Of Metal" oder "Kill Ritual". Dafür ist mit "Laughing With The Dead" ein amüsantes Stück Musik gelungen. Am besten rein hören und sich selbst ein Bild machen denn es ist gut möglich, dass bei diesem Titel die Meinungen weit auseinander gehen werden. Unterm Strich bleiben zehn abwechslungsreiche, eigenständige Nummern, die auf jeden Fall zum Headbangen animieren. Chris Boltendal und Co lassen auch nach 36 Jahren Bandgeschichte nichts anbrennen und geben ihren Fans das, was sie hören wollen. – durchaus gelungen!
Tracklist:
01. Healed By Metal
02. When Night Falls
03. Lawbreaker
04. Free Forever
05. Call For War
06. Ten Commandments Of Metal
07. The Hangman´s Eye
08. Kill Ritual
09. Hallelujah
10. Laughing With The Dead
Besetzung:
Chris Boltendahl – Gesang
Axel Ritt – Gitarre
Jens Becker – Bass
Stefan Arnold – Schlagzeug
Marcus Kniep – Keyboards
nternet:
Grave Digger Website
Grave Digger @ Reverbnation