Band: Harakiri For The Sky
Titel: III: Trauma
Label: Art Of Propaganda
VÖ: Bereits erschienen
Genre: Black Metal/Post Metal
Bewertung: 4,5/5
Written by: Peter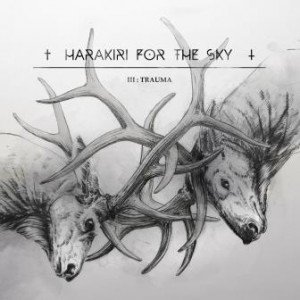 Die verfassende Journaille muss zu ihrer Schande gestehen, dass sie die Ausnahmekönner von Harakiri For The Sky bis zu ihrer neuen Scheibe III: Trauma anicht kennte. Das war nun eine echte musikalische Bildungslücke im von mir geliebten Genre des Schwarzmetalls. Die Österreicher machen auf ihrem Neuling wie bisher eigenständigen Black und Extreme Metal, der das Attribut "post" verdient. Dabei sind sie progressiv und schreiben Songs mit Längen um acht oder neun Minuten, verlieren sich dabei nicht in Klangkaskaden, wie das ihre Genre-KollegInnen teils tun. Immer steht es noch bestens um die Nachvollziehbarkeit der Songs.
Und dennoch entspricht die Musik auf dem Rundling auch dem extravaganten Cover, das zwei aufeinanderprallende Hirschköpfe in Zweikampfstellung zeigt – auch in der Musik stehen Anspruch, Extravaganz aber auch eine ordentlich Portion Heavyness und Aggression nebeneinander. Alles in allem ein Album, das zu überzeugen weiß!
Tracklist:
01. Calling The Rain
02. Funeral Dreams
03. Thanatos
04. This Life As A Dagger
05. The Traces We Leave
06. Viaticum
07. Dry The River
08. Bury Me
Besetzung:
M. S. – All Instruments, Songwriting
J. J. – Vocals, Lyrics
Harakiri For The Sky im Internet:
Harakiri For The Sky @ Facebook
Checkt hier das Album via Spotify: