Band: Hardcore Superstar
Titel: HCSS
Label: Gain Music Entertainment
VÖ: 2015
Genre: Sleazrock
Bewertung: 3,5/5
Written by: Ronja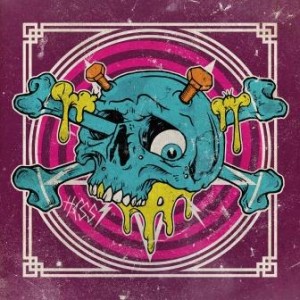 Schwedischer Sleazerock stirbt nicht aus, genau das beweisen uns die vier Jungs von "Hardcore Superstar" immer wieder aufs Neue. Mit ihrem bereits 10. (!) Studioalbum "HCSS" wollten sie wieder zurück zum Anfang der Band. Sie gruben alte Demo-Aufnahmen von 1994 aus – das Jahr, in dem für sie alles begann.
Ein Rückführungs-Prozess, der das Gefühl von früher genauso wie die ursprüngliche Motivation der Band wieder zum Vorschein brachte. Die Band versetzte sich, von der Aufnahmeweise über das Artwork und die Produktion bis hin zur Abmischung in eine Zeit zurück, in der "Hardcore Superstar" noch in den Kinderschuhen steckte. Die logische Schlussfolgerung hier bei ist dann leider auch, dass das Album musikalisch stark zurückgeht. Aber auch die Produktion ist eher durchschnittlich – hier haben die Burschen nämlich selbst Hand angelegt und Bombast wohl in vollem Bewusstsein außen vor gelassen. Aber wenn man darüber hinwegsieht klingt Back to the Roots eben auch jugendlich-ungezwungen und frei von jeglicher selbst gegerbten Vorlage.
"HCSS" zeigt die Ursprünge der Band und macht zugleich unmissverständlich klar, wofür diese Jungs immer noch stehen!! – Dreckiger, Rotziger Sleazerock!
Fazit: Wer die Sleaze Rocker aus Schweden mag und keine Angst vor altbackenen Zutaten hat, der wird auch dieses Album lieben.
Tracklist:
01. Don't Mean Shit
02. Party Till I'm Gone
03. The Cemetery
04. Off With Their Heads
05. Fly
06. The Ocean
07. Touch The Sky
08. Growing Old
09. Glue
10. Messed Up For Sure
Besetzung:
Jocke Berg (voc)
Vic Zino (guit)
Martin Sandvik (bass)
Adde Andreasson (drums)
Internet:
Hardcore Superstar Website

Hardcore Superstar @ Facebook