Band: High Spirits
Titel: You Are Here
Label: High Roller Records
VÖ: 2014
Genre: Hardrock/ Heavy Metal
Bewertung: 4/5
Written by: Lex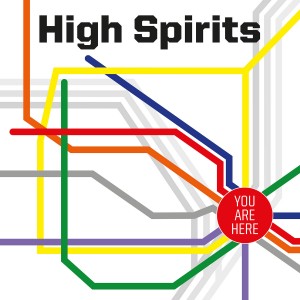 Das High Roller Records Label hat mit den High Spirits mal wieder guten Stoff am Start. Warum das Album mit einem dermaßen abgrundtief langweiligen Plattencover vergewaltigt wurde, kann ich zwar wirklich nicht verstehen, aber was soll´s. Muss ja nicht jedes Album Schwerter, Möpse, Monster oder verweste Leichen aufweisen – wär halt besser als dieses UBahn-Gekleckse.
Ab hier wird die Musik gesprochen, was gleichzeitig das Ende des Herumgemeckers bedeutet. Denn was die High Spirits auf ihrem mittlerweile dritten Album abliefern, bliebe sogar dann noch top, wenn man die Silberlinge in benutztes Klopapier verpackt hätte. In den ganz frühen hardrockigen Anfängen der NWOBHM verwurzelt, liefert das derzeit einzige Bandmitglied Chris Black ein Hammeralbum in diesem Stil ab. Und bei NWOBHM denke ich in dem Fall an die guten, alten Tygers Of Pan Tang. Nur dass die High Spirits bzw. Chris Black irgendwie etwas … ja "poppiger" im Gesamtbild wirkt als die alten Legenden. Vielleicht will Mastermind Chris Black deshalb seinen Sound mehr als "High Energy Rock" beschrieben wissen.
Definitiv nichts für Leute, die bei Metal an 10 000 Riffs pro Minute und pausenlose Schreianfälle denken. "When the Lights Go Down", "Gone To Pieces", "I will Run" und "High Spirits" sollten jedes für sich als Anspieltipp genügen. Wirklich gut gemachte Musik, der nur noch die echt großen Tracks fehlen.
Tracklist:
01. When the Lights Go Down
02. I Need You Love
03. One Thousand Nights
04. Reminding You of Me
05. The Last Night
06. Can You Hear Me
07. Gone To Pieces
08. I Will Run
09. High Spirits
Besetzung:
Chris (voc)
Scott (guit)
Mike (guit)
Bob (bass)
Ian (drums)
Internet:
High Spirits @ MySpace