Band: Illdisposed
Titel: With The Lost Souls On Our Side
Label: Massacre Records
Genre: Death Metal
VÖ: Juni 2014
Bewertung: 5/5
Written by: Lazer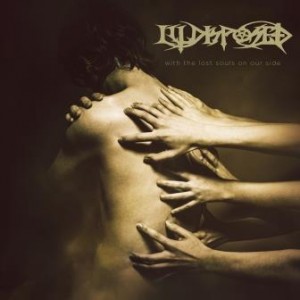 Über Illdisposed muss man eigentlich keine grundlegenden Einführungsworte finden, die Hardfacts sprechen für sich. 12 veröffentlichte Studioalben – die letzten 5 mit Chartseinstiegen in Dänemark und Deutschland. Das neueste kommt Ende Juni und wird wieder eine richtige Deathbombe.
Knapp 53 Minuten lang zeigen die Dänen, dass sie zu Recht seit 1991 begeisternd ans Werk gehen und Festivals wie zum Beispiel WithFullForce, SummerBreeze oder Wacken zu Buche stehen haben. Illdisposed ist ein bleibt Dänemarks Exportschlager in Sachen Death Metal.
Ihr neuestes Werk With The Lost Souls On Our Side enthält zehn beziehungsweise 12 Tracks (Digi-Pack Limited Edition) der Extraklasse.
Sehr düster, ziemlich hart und dennoch mit ganz tollen melodiösen Gitarrenriffs, begeistert das Gesamtprodukt. Die Drums der Dänen haben einen umwerfenden Drive und eine solche Brutalität – da bleibt kein Kopf ruhig und still. Der Subwoofer – so nennt die Band ihren Sänger, weil er so unglaublich tief grölen kann – brennt mit unglaublicher Brachialität seine Texte auf den Rohling, dass einem hören und sehen vergeht.
Mit Underground hat das, was Illdisposed produziert schon lange nichts mehr zu tun. Diese Jungs wissen, was sie tun, und das tun sie in einer bestechenden Art und Weise.
Insgesamt haben die Dänen ihren Sound immer wieder weiterentwickelt und bringen ihren kompromisslosen aber dennoch melodischen Stil auf With The Lost Souls On Our Side wiedermal eindrucksvoll zum Ausdruck.
Mein Fazit: With The Lost Souls On Our Side von Illdisposed darf in keiner gutsortierten Plattensammlung fehlen. Ein Meisterwerk sondergleichen. Sehr brutal, kompromisslos, hart und direkt auf der einen Seite, melodisch und eingehend auf der anderen Seite. Illdisposed gehören zu einer der Besten in ihrer Zunft, und mit diesem Album hieven sie sich nochmals in eine andere Ebene.
Tracklist:
01. Going Down
02. The Way We Choose
03. Light In The Dark
04. I Am What I Am
05. Tugging At Your Heart
06. A Dreaded Pursuer
07. To Be Dealt With
08. On A Clouded Morning
09. No More Devil To Show
10. The Plan
11. Life Equals Zero (Digipak Bonus Track)
12. Reversed (Digipak Bonus Track)
Besetzung:
Bo Summer – Subwoofer (a.k.a. Vocals)
Jakob Batten – Guitar
Ken Holst – Guitar
Kussen Jensen – Bass
Kim Jensen – Drums
Internet:
Illdisposed Website