Band: Infected Chaos
Titel: The Wake Of Ares
Label: Metal Music AT
VÖ: 27. März 2015
Genre: Death Metal
Bewertung: 5/5
Written by: Lazer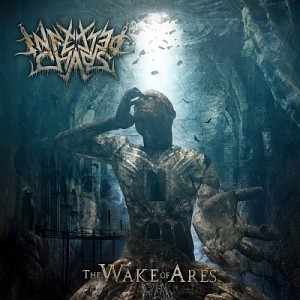 Debütalben sind immer eine sehr spannende Sache. Man ist gespannt darauf, wie eine neue unbekannte Band wohl klingen mag; was erwartet mich; was kommt auf mich zu; wie wird der Sound klingen; wie bringt die Band dies oder jenes aus den Boxen; etc.. Bei Infected Chaos und ihrem Debütalbum "The Wake Of Ares" kann man getrost nach etwa 1:10 Minuten (1:03 dauert das Intro) sagen: "Ach du verf*** Schei***, was ist DAS denn geiles!".
Explosionsartig legen die Jungs aus Österreich/Süddeutschland los. Der Sound ist von der Ersten Sekunde an hammermäßig. Die Drums sind brutal und sehr treibend. Die Riffs sind schroff und wirken etwas unaufgeräumt, jedoch aber auch sehr melodisch und eingehend. Der Bass murrt hier nicht nur so mit, sondern verleiht der Platte eine gewisse Bösartigkeit und ist sehr drückend. Bei den Vocals scheint hier ein wahres Untier am Werk zu sein. Inbrünstig growlt und drückt der Sänger seine Lyrics ausdauernd und mit Leidenschaft durch sein Mikrofon. Mit dem Arbeitstitel "The Wake Of Ares" haben die Jungs hier genau ins Schwarze getroffen.
Ihre Scheibe fegt wie ein schrecklicher Krieg über alles hinweg, was sich auch nur ansatzweise in dessen Weg stellen will und hinterlässt nach einem absoluten Massaker ein irrsinniges Blutbad. Mit zwölf Tracks lassen sich Infected Chaos auch nicht lumpen mit ihrem Debüt. Knappe 47 Minuten dauert dieses Spektakel und ist an Highlights nicht zu überbieten. Die Jungs können mit ihrer Leidenschaft und Spielfreude den Zuhörer nicht nur über die komplette Spielzeit aufmerksam an sich binden, sondern haben es auch geschafft, dass man bei öfterem Hören von The Wake Of Ares immer wieder neue, kleine aber feine, Details entdeckt.
Mein Fazit: Absolut geniales Album. Die Tracks sind durchgehend kraftvoll und strotzen nur so von Energie und Power. Sehr erfrischender und trotzdem brutal durchdringender Old School Death Metal at its best. Der Sound ist hammergeil und die Arrangements sind punktgenau – weder zu viel, noch zu wenig. Dieses Teil geht von der Ersten Sekunde an sofort auf 100 und gibt uns bis zum Letzten Ton voll auf die Schnauze.
Tracklist:
01. Rotting In Chains
02. Devours The Light
03. Ninth Circle
04. Arson Anthem
05. Wolves In Thy Pantheon
06. Code Of IC
07. Awaking Into Nightmare
08. Strike From The Sky
09. IA, God Of War
10. The Silent Monolith
11. Blooddawn Resistance
12. The Sea Of Grief
Besetzung:
Christian – Vocals
Christoph – Drums
Flo – Bass
Martin – Guitars
Matthias – Guitars
Internet: