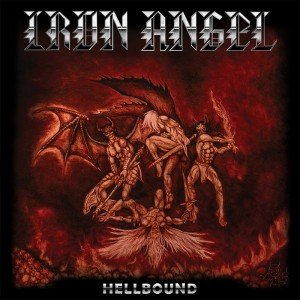 Band: Iron Angel
Titel: Hellbound
Label: Mighty Music
VÖ: 04.05. 2018
Genre: Speed/Heavy Metal
Bewertung: 4.5/5
Written by: Lex

Auch wenn man die alten Releases der Band aus den Achtzigern nicht kennen sollte (hallo hier – schuldig!), ist das erste Iron Angel Album seit 30 Jahren es definitiv wert, angehört zu werden.
Kein entschuldigendes "Sie sind halt nicht mehr so jung"-Gesabbel ist hier notwendig, denn "Hellbound" klingt als hätte es die ganzen Jahrzehnte überhaupt nicht gegeben.
Es ist eines dieser Alben, das so richtig schön alles repräsentiert, was man sich intuitiv unter einem echten Metal-Album vorstellt; von einer Band, die jedes Steel, Fight, Blood, Leather und so weiter auch meint und atmet. Tracks wie "Writings On The Wall", "Hellbound", "Blood And Leather" oder "Carnivore Flashmob" klingen, als könnten sie bei ausreichender Lautstärke Wasser in Bockbier verwandeln.
Iron Angel anno 2018 sind wie Bruce Willis – Älter, Härter. Besser!
Tracklist:
01. Writing's On The Wall
02. Judgement Day
03. Hell And Back
04. Carnivore Flashmob
05. Blood And Leather
06. Deliverance In Black
07. Waiting For A Miracle
08. Hellbound
09. Purist Of Sin
10. Ministry Of Metal
Besetzung:
Mäx Behr (Drums)
Dirk Schröder (Vocals)
Didy Mackel (Bass)
Mitsch Meyer (Guitars)
Robert Altenbach (Guitars)
Internet:
Iron Angel Website