Band: Iron Savior
Titel: Rise Of The Hero
Label: AFM Records
VÖ: 2014
Genre: Speed/Power Metal
Bewertung: 5/5
Written By: Thorsten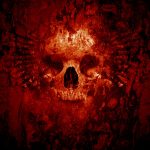 Was so ziemlich als erstes am neuen Werk "Rise Of The Hero" von IRON SAVIOR auffällt, ist die unglaublich gute und vor allem fette Produktion! Egal wie man zu Power Helloween Gamma Ray Metal steht, das hier knallt "powervoll" aus den Boxen in die Ohren und hinterlässt Spuren…
Ob die Metalwelt wirklich eine metallische Version von MANDO DIAO´s "Dance With Somebody" gebraucht hat, stelle ich mal jetzt in den Raum…aber wenn es irgendetwas an dem Album zu bemängeln gibt, dann wäre es ausschließlich dieser Song!
Von den ersten (futuristisch anmutenden) Klängen des Intros bis zur letzten Note wird mächtig Vollgas gegeben und IRON SAVIOR wandern auf dem schmalen Grat zwischen Heavy Metal und Power Metal, bzw. verbinden diese beiden Schubladen sehr geschickt.
Nicht nur überschallschnelle Melodien werden von Piet Sielck und seinen Mannen dargeboten!
Dass die Band auch metallisch rocken kann, beweist sie aber auf dieser Veröffentlichung nicht zum ersten Mal und legen damit die Messlatte für den deutschen Powermetal recht hoch!
Aus meiner Sicht ist die Scheibe auch melodiöser, sprich eingängiger geraten, als das, was ich von HELLOWEEN in den letzten Jahren gehört habe!
IRON SAVIOR erfinden sich mit "Rise Of The Hero" nicht neu, aber wer will das auch schon! Vielmehr würde ich behaupten, die Band klingt geschlossener, eingespielter…alles verfeinerter, detaillierter! Der Science Fiction "Faden" durchzieht wie bereits der Vorgänger "The Landing" das Album, ist es doch auch das Faible des Frontmannes!
Nicht neu erfundene fette Ohrwürmer, die mich aber kurzweilig bespaßen und langanhaltend im Kopf bleiben! Was will man mehr?
Tracklist:
01. Ascendence 01:28
02. Last Hero 05:00
03. Revenge of the Bride 04:35
04. From Far Beyond Time 05:17
05. Burning Heart 04:39
06. Thunder from the Mountains 05:08
07. Iron Warrior 04:41
08. Dragon King 05:43
09. Dance with Somebody (Mando Diao cover) 03:55
10. Firestorm 04:58
11. The Demon 05:02
12. Fistraiser 04:40
Besetzung:
Piet Sielck (voc & guit)
Jan "S" Eckert (bass)
Joachim "Piesel" Küstner (guit)
Thomas Nack (drums)
Internet:
Iron Savior Website
Iron Savior @ MySpace