Band: KATAKLYSM
Titel: Of Ghosts And Gods
Label: Nuclear Blast Records
VÖ: 31.07.2015
Genre: Death Metal
Bewertung: 5/5
Written by: Mayhemer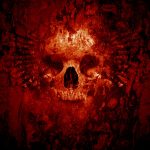 Die kanadischen Metal- Monster KATAKLYSM schreiben Death-Metal-Geschichte. Als erste Death-Metal-Band überhaupt werden sie zu jedem Song des neuen Albums "Of Ghosts And Gods" einen Videoclip veröffentlichen. Insgesamt somit 10 Videos, die mit Veröffentlichungsdatum 31.07.2015 abgeschlossen und  auf YOUTUBE und Co. zu bestaunen sein werden. Soviel mal als ungezwungene und bereits hinreichend publizierte Hintergrundinformation.
Das neue Album der Death Metal Ikonen ist ein luxuriös – bombastisches, hochmelodisches, gar weitschweifend – episches und meiner Meinung nach auch derzeit einzigartiges Death Metal – Feuerwerk, das in dieser Form nicht nur ein Album des Monats oder des Jahres darstellt, sondern des Jahrzehnts. Songs, wie der Opener "Breaching the Asylum" (Alleine schon das Intro nimmt dich gefangen) Oder "Black Sheep" und "Thy serpents Tongue" packen das aus, was jeder Death Metal Fan hören will: Blastbeats, Midtempo Riffing und Melodisches Gitarrenspiel. Nur, bei Kataklysm klingt das Zusammenspiel der Riffs und überhaupt die Songwriting – Ideen eben um diese eine Spur besser, als bei allen anderen. Intelligent – anspruchsvoll und zu keiner Zeit überfordernd erklingen die Töne aus den Boxen dieser Death Metal Walze namens "Of Ghosts And Gods". Intelligent sind auch die Texte, breit erzählend und mit Sinn. Kein stupides Satan dies und Satan das… GEIL! Tja, und als ich glaubte, dass es nicht mehr besser geht, kommt ein Song mit Namen "Carrying Crosses" daher! Ja, der Wahnsinn. Mir fehlen die Worte. Außer: Grenzgenial und Geil fällt mir nichts mehr ein! Und in dieser Manier geht es mit "Shattered" oder "The World is a dying Insect" weiter. Repeat Knopf! Schnell! Der Wahnsinn. Das reinste Riff – Gewitter! Genial.
Ich schätze mal, dass "Of Ghosts And Gods" jegliche Kritiker der Band verstummen und nur offene Münder sowohl bei Ebendiesen, Fans und genrefremden Musikliebhabern zurück lässt. Das geilste Album, dass mir in diesem Jahrzehnt passiert ist! Daumen hoch! Rock on
"Carrying Crosses" is about giving everything you are to someone, accepting their defects, being taken advantage of and sacrificing everything for someone you love just to have them bleed you dry in return."
– Maurizio Iacono
Tracklist:
01. Breaching The Asylum
02. The Black Sheep
03. Marching Through Graveyards
04. Thy Serpents Tongue
05. Vindication
06. Soul Destroyer
07. Carrying Crosses
08. Shattered
09. Hate Spirit
10. The World Is A Dying Insect
Besetzung:
Maurizio Iacono – vocals
Jean-François Dagenais – guitars
Olivier "Oli" Beaudoin – drums
Stephane Barbe – bass
Internet:
Kataklysm Website
Kataklysm @ MySpace
Kataklysm @ Reverbnation